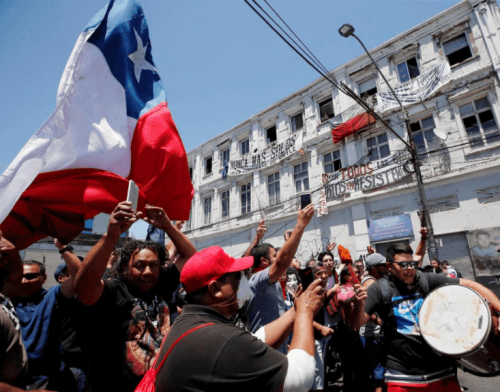 As unrest continues in Chile a new wave of walkouts and mobilizations on Tuesday and Wednesday with the Port Union of Chile workers and Union 1 of the Escondida mine joining a march by teachers.
More than 6,000 workers employed in 20 terminals in Chile decided to suspend its activities during the third shift on Tuesday (23-00hrs) continuing until the second shift Wednesday. In a statement, the Port Union said that "more than 10 days have passed and we maintain the need for a new constitution to be discussed throughout the country and not only by those who are today deputies in Congress." They called for a national general strike for Monday, 4 November.
The Chilean Port Union recently announced that they will continue "firm with the people because we are working class and deep transformations have to come from unionism".
Daily protests have continued almost without interruption for the past 12 days which began with discontent over a rise in the Santiago Metro fares, but ended up escalating to a wide range of demands, also related to education, health, pensions, among others.
The President of Chile, Sebastián Piñera, announced on 22 October a social agenda and this week made a cabinet change that has been debated in different social and political sectors.
Hundreds of thousands of Chileans marched across cities and towns throughout the country over the past week, and on Friday, an estimated 1 million people, about 5% of the country's population, protested in the capital of Santiago.
While copper mining companies in Chile indicated that nationwide riots have mostly spared production thus far, continuing protests have hobbled port facilities, public transportation and supply chains. Antofagasta Plc mining company estimated the current civil unrest could disrupt about 5,000 tonnes of copper production.
In Valparaiso and San Antonio where are located the largest terminals, container movements have been affected and therefore exports. It is the beginning of the peak season for Chilean fruits exports. In 2018, Chile's fruits exports accounted for 5% of all US fruits imports with more than 800,000 tonnes.