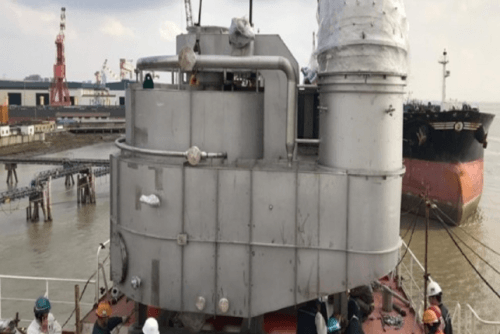 More than 100 containerships are out of action due to scrubber retrofits and over 500 others are scheduled for retrofitting over the coming 12 months, according to data from Alphaliner.
With IMO 2020 just around the corner, the world's shipping fleet is gearing up to face the new regulation capping bunker sulphur content at 0.5%, or the continued use of high sulphur fuels will need the installation of a scrubber to bring the sulphur content down to the compliant level.
As at 29 October, the number of containerships that stay at repair yards for scrubber retrofits has reached 86, with at least 14 ships currently waiting for a yard slot to become available.
In addition, more than 500 containerships are scheduled to be retrofitted over the coming 12 months.
Such a long retrofitting queue has led to congestion at various yards as the scrubber installation works have taken longer than anticipated.
"Yard stays for the 79 ships that have completed retrofitting works so far this year averaged 62 days, compared to initial expectations of 40 to 50 days.
"The 62-day average does however include yard stays of ships that, in addition to having a scrubber installed, also underwent other repairs or conversions to increase the vessels' container capacities," Alphaliner said.
The more extensive work could consist of raising the deckhouse or installing higher lashing bridges.
The shipyard delays have so far forced carriers' to postpone the scheduled liner service re-phase-in of some converted ships, and they have created queues for ships waiting to enter the yards, Alphaliner observed.
"In some cases, container vessels waited at anchor for two to three weeks until a yard slot became available," it said, adding that the current yard congestion problems are expected to last for some time, well into next year.
In the tanker shipping segment, the situation is similar with yards described as being "very busy" and even "chaotic", and retrofit projects have spanned an average of 37 days in the yard, according to a recent update from VLCC owner DHT Holdings.
Platts Analytics is expecting approximately 60 VLCCs to head for scrubber retrofits in the fourth quarter, with each installation job taking roughly one month.