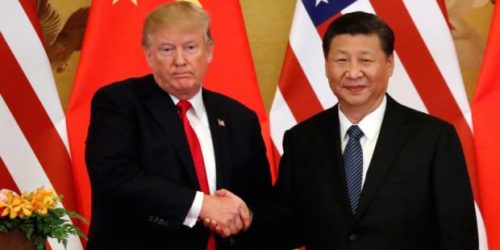 U.S. President Donald Trump and President Xi Jinping of China have agreed to put a break on the escalating trade war and shelve further tariff increases that were planned to enter into force in January 2019.
The duo met on the sidelines of the 2018 G20 Buenos Aires summit, in Argentina that was held weekend.
Trump agreed to leave the tariffs on USD200 billion worth of product at the 10% rate, and not raise it to 25% at this time, the White House said in a statement on Saturday.
"China will agree to purchase a not yet agreed upon, but very substantial, amount of agricultural, energy, industrial, and other product from the United States to reduce the trade imbalance between our two countries. China has agreed to start purchasing agricultural product from our farmers immediately," the statement said.
Trump and Xi agreed to start talks on changes to "forced technology transfer, intellectual property protection, non-tariff barriers, cyber intrusions and cyber theft, services and agriculture." The two countries aim to reach solutions on the said matters in 90 days.
The White House said that if at the end of this period of time, the parties are unable to reach an agreement, the 10% tariffs will be raised to 25%.
Impact of the Trade War on Shipping
The resumption of the tit-for-tat tariff policy between China and the U.S. would continue to harm trade between the two nations.
The impact of the trade tensions is already being felt in various shipping sectors and is starting to change shipping patterns. Namely, Chinese imports of U.S. crude oil dropped to zero in August despite the fact that oil is not an official part of the trade war.
Even though U.S. crude oil exports to any other destination were record high, BIMCO's Chief Shipping Analyst, Peter Sand, insists that for crude oil tanker shipping industry distances often matter more than volumes.
"Even though volumes were record high, tonne-mile demand dropped by 19% from July to August due to the shift in trade patterns. Exports to Asia are by far the most important," Sand said earlier.
On the dry bulk side, the standstill is being announced amid 43 pct drop year-on-year in U.S. soya bean exports in the first three months of 2018-2019 marketing year, according to BIMCO's data.
By November 23, 2017, 71.3% of all soya bean exports were sent to China, equal to 200 Panamax loads on one of the longest trades in the world. So far this marketing year, China has taken just 2.8% of U.S. soya bean exports, further harming the tonne mile demand generated by U.S. soya bean exports, BIMCO said.
As a result, dry bulk shipping market has seen a change in trading patterns, with majority of U.S. soya bean exports heading south.
"Overall it seems likely that US soybeans will not be heading to China in significant volumes over the next few months, accounting for approximately around 5% of sub-Capesize demand in Q4," says Maritime Strategies International's (MSI) Dry Bulk Analyst William Tooth.
"It is highly unlikely this cargo will find another buyer in such volumes, and most will be destined for U.S. domestic stocks. However, the lower U.S. price is prompting increased shipments to some unlikely destinations such as Brazil, Argentina and Iran."
MSI expects a shift to the seasonality seen in U.S. soybeans exports over the last five to six years, meaning slower trade over the next three months, but greater trade in Q2 as Latin American exports get going. The shipping consultancy forecasts Supramax spot rates of USD 12,400/day in January and USD 13,300/day in April.
Meanwhile U.S. wheat exports have continued to underperform with only 8.6mt exported so far this marketing year (which started in June), down 25% yoy.
MSI expects any increase in shipping volumes to come after the seasonal lull that lasts from October to February, when exports tend to be 10-30% below the average rate for the year.  A strong U.S. wheat trade is anticipated in the final three months of the trade year, March-May, also supporting freight rates in Q2, according to MSI.  
Copyright Ships & Ports Ltd. Permission to use quotations from this article is granted subject to appropriate credit given to www.shipsandports.com.ng as the source.