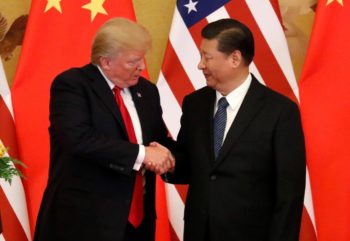 China on Friday denied that it had offered a package to slash the U.S. trade deficit by up to $200 billion, hours after it dropped an anti-dumping probe into U.S. sorghum imports in a conciliatory gesture as top negotiators meet in Washington.
United States officials had said on Thursday that China was proposing trade concessions and increased purchases of American goods aimed at cutting the U.S. trade deficit with China by up to $200 billion a year.
"This rumor is not true. This I can confirm to you," Chinese foreign ministry spokesman Lu Kang told a regular news briefing.
"As I understand, the relevant consultations are ongoing and they are constructive," he said, adding that he could not elaborate on the specifics of the negotiations.
Chinese Vice Premier, Liu He is in Washington this week for talks with U.S. officials led by U.S. Treasury Secretary Steven Mnuchin aimed at heading off a trade war between the world's two biggest economies.
Earlier on Friday, China announced that it was ending its sorghum investigation, which had effectively halted a trade worth roughly $1.1 billion last year and roiled global grain markets and spurred worries about rising costs domestically.
Explaining the dropping of the sorghum investigation, China's commerce ministry said it "would have a widespread impact on consumer living costs, and does not accord with the public interest".
Agency Report