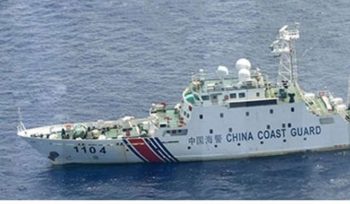 China Wednesday denied plans to build an environmental monitoring station on a disputed shoal near the Philippines' coastline, after a local official last week announced the plan.
"As we have learned from relevant authorities, the report on establishing an environmental monitoring station is false. This is not true at all," foreign ministry spokeswoman Hua Chunying told reporters at a regular briefing in Beijing.
The comments came after the committee secretary of China's Sansha city reportedly said his country was "continuing to carry forward early-stage work on environmental monitoring stations" on six reefs and shoals in the South China Sea including Scarborough Shoal — which China seized from the Philippines in 2012.
The statement was deleted from the website of the provincial government, which administers China's claims to the islands, after being reported in Chinese media.
Beijing has already reclaimed large areas around several islets and reefs in the Spratly archipelago elsewhere in the South China Sea, and built airstrips and military facilities on some.
But analysts warn that building on Scarborough Shoal would radically change the situation since it is just 230 kilometres (143 miles) from the main Philippine island of Luzon.
Outposts on the shoal would put Chinese jet fighters and missiles within easy striking distance of military bases in the Philippines, some of which could host US troops.
The shoal also commands the northeast exit of the South China Sea, so a Chinese military outpost there could stop other countries' navies from using the waters.
On Sunday Philippine President Rodrigo Duterte said in response to the Sansha reports that Manila could not prevent such construction because Beijing was too powerful.
"We cannot stop China from doing (these) things," Duterte told journalists.
"What do you want me to do? Declare war against China? I can't. We will lose all our military and policemen tomorrow and we (will be) a destroyed nation."