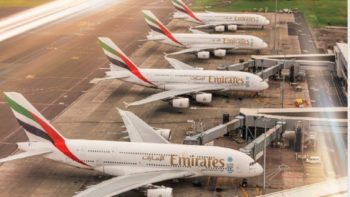 China's civil aviation authority has fined Dubai-based Emirates airline for violating safety rules and banned it from adding new routes in the country for six months.
On April 17, an Emirates plane flew at the wrong height over the city of Urumqi in far-western Xinjiang, causing "serious flight conflict," the Civil Aviation Administration of China (CAAC) said in a statement.
In another "unsafe event" also over Urumqi on May 18, an Emirates plane lost radio communications during its flight, the regulator said.
The leading Middle Eastern airline was fined 29,000 yuan (4,270 dollars).
Emirates was previously barred from adding new planes and routes in China for six months after a January 2016 incident where a plane landed with low fuel.
The CAAC said its officials recently met with Emirates representatives to assess operations of the airline in the country in recent years.
At the meeting, Emirates executives briefed the CAAC on its own internal investigation and proposed corrective measures.
Earlier this week, the authority said it had "zero tolerance" for "security risks" and would introduce new methods to prevent accidents.
Emirates offers 38 weekly flights to and from China, providing connections to over 150 cities in the world.