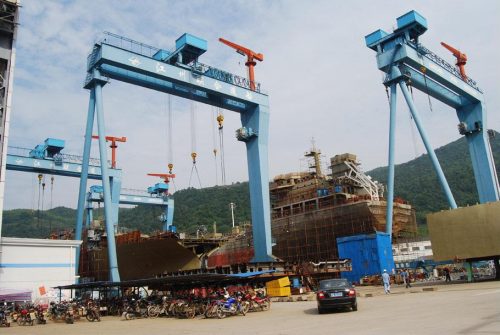 China Ocean Industry Group says that subsidiary Nantong Huakai Heavy Industry, has received a judgment from the People's Court of Rugao, Nantong, Jiangsu province related to the bankruptcy.
The creditors of Nantong Huakai had applied to the court for the bankruptcy and liquidation of Nantong Huakai as it was unable to pay its debts. The court had assigned Jiangsu Huahui Liquidation Company Limited as the bankruptcy administrator of the case.
China Ocean Industry Group said it is actively communicating with the creditors, the local government and the court to seek for reconciliation or debt restructuring plan related to the bankruptcy proceedings, the company said in a filing.
In June this year, China Ocean Industry Group announced that the company had entered into agreement with Nantong Hua Chuan Jiao Tong Zhuang Bei Company for the disposal of its 60% equity interests in Nantong HuaKui. However, the deal has been delayed following the bankruptcy of Nantong Huakai.
Nantong Huakai, established in 2007, is principally engaged in manufacture and sales of steel structure and fittings for ship, marine equipment, mining equipment, ro-ro equipment and building steel structures.