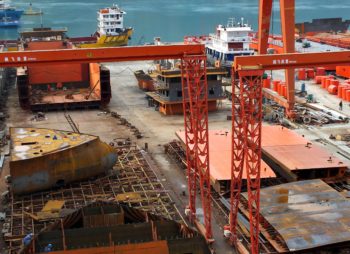 China's shipbuilding figures posted declines in the first 11 months of this year over the year-ago period, in line with the gloomy state of the industry, according to statistics from China Association of the National Shipbuilding Industry (Cansi).
From January to November this year, Chinese shipbuilders received 19.94m dwt of newbuilding orders in tonnage terms, down 14% compared to the same period of last year.
The orderbook up until 30 November 2016 was recorded at 103.01m dwt, a plunge of 20.4% year-on-year and down 16.3% from the end of 2015, Cansi figures showed.
In completed newbuild tonnage, Chinese shipyards built a total of 31.83m dwt of vessel capacity in the first 11 months, representing a fall of 12.1% from the previous corresponding period.
Cansi figures further showed that China's 51 leading shipyards controlled more than 90% of market share with their newbuilding orders coming up to 18.36m dwt in the first 11-month period, down 14.4% year-on-year.
The 51 leading yards completed 29.86m dwt of newbuild tonnage, a decline of 10.4% year-on-year, and sat on a combined order backlog of 100.04m dwt as at end-November 2016, down 22.1%.
The Chinese shipbuilding association also monitors 94 main yards, which booked a combined completed newbuild value of RMB388bn ($56.18bn) in the first 11 months, a decrease of 3.1% from the year-ago level.
Among the total value, shipbuilding accounted for RMB178.5bn, equipment amounted to RMB25.1bn and repairs took up RMB10.8bn.
The 94 main shipyards generated combined revenue of RMB288bn in the January-November period, down 3% year-on-year, and a profit of RMB2.9bn, down 9.6%.
Copyright Ships & Ports Ltd. Permission to use quotations from this article is granted subject to appropriate credit given to www.shipsandports.com.ng as the source.