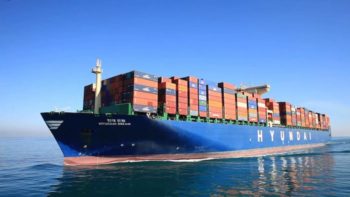 A "strategic cooperation" agreement between Hyundai Merchant Marine (HMM) and the 2M vessel sharing alliance comprising Maersk Line and the Mediterranean Shipping Company (MSC) will limit the South Korean container carrier's ability to grow in the future, according to Alphaliner.
The fact that HMM could only secure arrangements with Maersk Line and MSC outside the 2M scope and not the full 2M membership that HMM and its main shareholder, Korea Development Bank (KDP), had originally sought, is "a major setback" to the rehabilitation process of the struggling Korean carrier, Alphaliner said.
Under a new '2M+H' Strategic Cooperation' agreement, HMM only managed to secure slots on 2M services under a new slot exchange and purchase scheme.
The new Maersk/MSC/HMM cooperation is scheduled to begin in April 2017, subject to regulatory approvals, for an initial period of three years.
Under the agreement, HMM will purchase slots on the 2M routes connecting Asia with North Europe, the Mediterranean and the US East Coast, while continuing to operate Asia – US West Coast services on its own, with Maersk and MSC taking slots. Actual service details are to be disclosed early next year.
HMM will pay a heavy price for access to the 2M services, according to Alphaliner.
To start with, Maersk and MSC will take control of an unspecified number of vessels currently operated by HMM on the Asia – Europe and Asia – USEC routes. These ships will be operated and marketed by Maersk and MSC, with HMM relegated to the role of slot buyer.
HMM's overall slot allocation could thus not be as high as initially expected, limiting HMM's chances for growth in the future, Alphaliner said.
The HMM slots on the relevant routes are expected to be capped for the entire duration of the agreement. In addition, Maersk and MSC will gain access to the Far East – USWC services operated independently by HMM. This will provide the 2M partners with additional coverage of the transpacific trade, according to Alphaliner.
Earlier this week, HMM announced plans to take 5 percent of global market share by 2021 by means of various measures including its latest agreement to join the 2M network.
The company currently controls 2.2 percent of global container capacity.
Copyright Ships & Ports Ltd. Permission to use quotations from this article is granted subject to appropriate credit given to www.shipsandports.com.ng as the source.