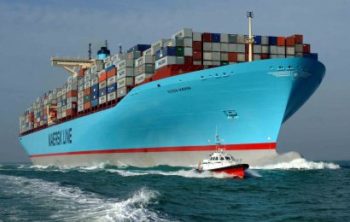 South Korean shipper Hyundai Merchant Marine Co Ltd (HMM) said on Sunday it has agreed with the 2M shipping alliance (Maersk Line and Mediterranean Shipping Company) to form a cooperative relationship that falls short of full-fledged membership.
Joining an alliance with major shipping firms was one of the conditions of a debt restructuring deal between Hyundai Merchant Marine and its creditors in May.
Both HMM and Maersk Line's statements on the according are published as is below:
Hyundai Merchant Marine statement: 
Hyundai Merchant Marine is pleased to announce that we have agreed a new strategic cooperation with Maersk and MSC. The agreement is scheduled to begin in April 2017 subject to regulatory approval (FMC etc).
Its official title is '2M+H Strategic Cooperation' and cooperation methods are slot exchanges and slot purchases which are similar to O3-Ocean Alliance adopted. Moreover, the '2M+H Strategic Cooperation' has exclusivity against other alliances, and it is binding on all parties which can file with the FMC.
* It is definitely one of alliance types, as we adopt operation methods which other alliances also adopt and it has binding force for FMC filing.
This agreement is the best result putting emphasis on practical benefits when we concern our fleets, financial status, and profitability which are at a disadvantage in negotiation with 2M.
Hyundai Merchant Marine has specified that the Basic Slot Allocation (BSA) agreed with Maersk and MSC offers a participation of HMM to the new advanced Network of 20% approximately regarding that which HMM stops in the G6 alliance, than sees it placed side by side to the companies APL, Hapag-Lloyd, Mitsui O.S.K. Lines (MOL), Nippon Yusen Kaisha (NYK) and Orient Overseas Container Linens (OOCL).
We have agreed to initial three-year term with 2M which is shorter than the general period of alliance contracts. This is because a long-term contract may prevent us from growing into a global carrier under limited circumstances including restriction of new vessel orders.
Especially, HMM will add more Transpacific westbound service to its competitive Transpacific trade than G6 does. (2 services ? 3 services)
With this strategy cooperation agreement, HMM acquires a wide range of services and stability improvement of profitability through 2M network and fuel-efficient vessels
We will fulfill nation's expectations with competitiveness enhancement, as we iron out the uncertainty through negotiated settlement.
Maersk Line/2M statement
Maersk Line, Mediterranean Shipping Company (MSC) and Hyundai Merchant Marine (HMM) today announced a new strategic cooperation.
The cooperation is a combination of slot exchanges and slot purchases between the three parties, as well as Maersk Line and MSC taking over a number of charters and operations of vessels currently chartered to HMM. The cooperation is outside the scope of MSC and Maersk Line's 2M vessel sharing agreement, however, will provide HMM access to the 2M network. For MaerskLine the cooperation will provide new opportunities, not least in the Transpacific trade where 2M gets access to strong HMM products.
"We are pleased to enter into this strategic cooperation with Hyundai Merchant Marine, Korea's leading container carrier. It will enable us to enhance our 2M network and presence in the important Transpacific trade. We look forward to leveraging these new opportunities to the benefit of our customers," says Søren Toft, Chief Operating Officer, Maersk Line.
The agreement is scheduled to begin in April 2017 subject to regulatory approval. The initial term of the cooperation is three years with option to extend and covers key East-West trades. The parties expect to disclose more information about network changes and schedules in early 2017.
Copyright Ships & Ports Ltd. Permission to use quotations from this article is granted subject to appropriate credit given to www.shipsandports.com.ng as the source.