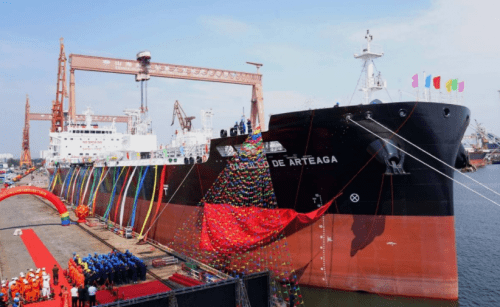 China State Shipbuilding Corporation officially debuted in Beijing on Tuesday, as a result of the merger between China's two leading shipbuilding companies China Shipbuilding Industry Company (CSIC) and China State Shipbuilding Corporation (CSSC).
The merger of CSSC and CSIC will create the world's largest shipbuilding group.
Officials from China's State Council, Ministry of Industry and Information Technology,Ministry of Transport and other related government departments attended the inaugural meeting
The newly established China State Shipbuilding Corporation, has 147 scientific research institutions, enterprises and listed companies, with total assets of $112.41bn and 310,000 employees. It owns China's largest shipbuilding and repair bases and the most advanced ship development and research facility.
Former chairman and general manager of CSSC, Lei Fanpei and Yang Jincheng, are the chairman and general manager of the new group.
Last month, China's State Council approved the merger between CSSC and CSIC.
The new group aims to become the main force for researching, designing, manufacturing, testing and safeguarding the supply of China's naval armament, to be the main force of the nation's shipbuilding industry development and to be the leader of opening up and reform of state-owned companies, to promote high quality development of shipbuilding industry with strong international competitive advantage.