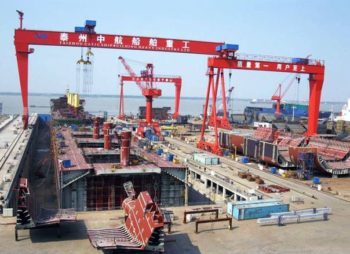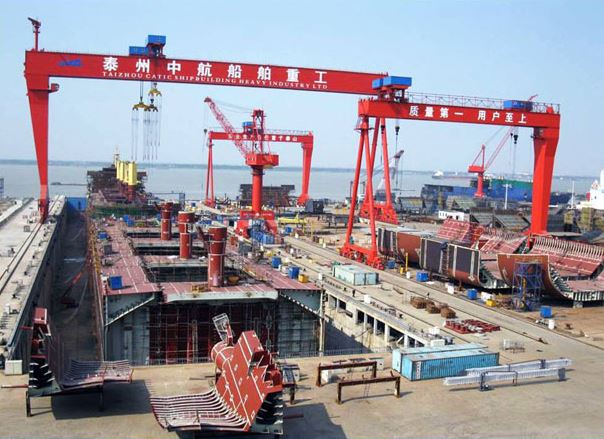 China's white list of 70 shipyards is set for a round of reshuffling with 20 names being asked to provide updates on their operating status and changes in corporate identities, according to the Ministry of Industry and Information Technology (MIIT).
The ministry said it has asked 10 yards to update on their operating status within an unspecific time frame.
Five of them are state-owned yards comprising CSSC Shanghai Jiangnan Changxing Shipbuilding, CSSC Guijiang Shipbuilding, CSSC Xijiang Shipbuilding, CSIC Chongqing Chuandong Heavy Industry, and CSIC Chongqing Donggang Shipbuilding Industry.
Another five are privately-owned yards consisting of Jiangsu New Yangzi Shipbuilding, Jiangsu Yangzi Xinfu Shipbuilding, Fuijan Huadong Shipyard, Sainty Marine, and Nantong Sinopacific Offshore & Engineering (SOE).
Sainty Marine is expected to be removed from the white list as it has completed a restructuring with its parent firm Jiangsu Guoxin Group, and has quit the shipbuilding business and renamed as Jiangsu Sainty Assets Management Co.
SOE, subsidiary of Sinopacific Shipbuilding, has been liquidated and thus far failed to attract any investor to help restructure the company.
The ministry stated that a further 10 yards have changed their names or will be rebranded due to restructurings and consolidation.
Among the 10, six names belonged to Cosco Shipping Heavy Industry and they are poised to be rebranded. The six are Nantong Cosco KHI Ship Engineering (NACKS), Dalian Cosco KHI Ship Engineering (DACKS), Dalian Cosco Ship Engineering, Zhoushan Cosco Ship Engineering, Guangdong Cosco Ship Engineering, and China Shipping Industry (Jiangsu).
Nanjing Jinling Shipyard and Qingshan Shipyard, both subsidiaries of Sinotrans & CSSC, will be rebranded following the completion a merger between China Merchants Group and Sinotrans & CSC.
The remaining two that have changed their names are CSSC Offshore & Marine Engineering Co or COMEC (previously Guangzhou Shipyard International) and Anhui Wuhu Xinlian Shipbuilding (previously Wuhu Shipyard).
The latest reshuffling followed last month's announcement by MIIT on the removal of seven yards and the addition of six to the white list.
The MIIT added that it has also temporarily stopped accepting applications for the white list in 2017.
China's shipbuilding industry has been troubled by severe overcapacity of shipbuilding facilities since post-global financial crisis, prompting Beijing to introduce the white list policy in September 2014 for the listed yards to gain prioritised support from domestic bank credit facilities.
However critics of the policy have said that the white list status for private shipyards has not brought about any meaningful benefit, as the policy is ultimately meant to help the state-owned enterprises. 
Copyright Ships & Ports Ltd. Permission to use quotations from this article is granted subject to appropriate credit given to www.shipsandports.com.ng as the source.