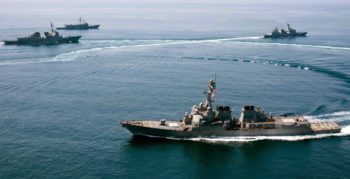 Talks on completing a code of conduct for the disputed South China Sea will be long and complex and it would be unrealistic to set a timetable, state media on Thursday cited a senior Chinese diplomat as saying.
Southeast Asia and China agreed last week on a working text to continue long drawn-out negotiations over the code of conduct, with officials lauding it as a "milestone" and "great progress".
Several members of the Association of Southeast Asian Nations (ASEAN) and China have overlapping claims to the sea, one of the world's busiest and most strategic waterways, where China has expanded reefs into man-made islands.
For years, they have been discussing a pact to prevent an escalation of disputes.
In an interview with China Newsweek magazine, Yi Xianliang, Director General of the Chinese Foreign Ministry's Department of Boundary and Ocean Affairs, said the talks were continuing.
Many of the topics were complex and sensitive and there were many different points of view, he said.
"If these issues are to be resolved, and the code finally comes together, all sides need to keep looking for the greatest common denominator," Yi added.
"There are voices from the outside, who are trying to set a timetable for the talks on the code. I think this is unrealistic," he said.
Any multilateral talks take time, especially on such a complex issue as the South China Sea, Yi added.
"It is impossible to define a timetable. Instead of setting the timetable unrealistically, and binding one's hands, it's better to step forward one foot at a time."
China has repeatedly denounced what it views as interference from "countries outside the region" in the South China Sea, generally a message to the United States and its allies to stay out of the dispute.
Signing China up to a legally binding and enforceable code for the waterway has long been a goal for claimant members of ASEAN, some of whom have sparred for years over what they see as China's disregard for their sovereign rights and its blocking of fishermen and energy exploration efforts.
Yi said that matter was "complex".
"Certain countries outside the region have been agitating that the code must be legally binding. This issue is quite complicated, including the domestic legal procedures involved in the countries concerned," he added, without elaborating.
Agency Report