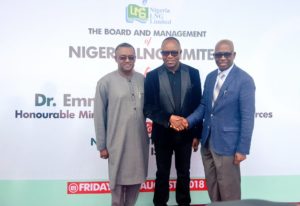 The Minister of State for Petroleum Resources, Dr Ibe Kachikwu, has urged the board and management of Nigeria LNG Limited (NLNG) to expand the production volumes of its plant beyond what Train 7 will bring.
He stated this when he visited the NLNG Plant on Bonny Island, Rivers state, to assess the company's state of preparedness for the construction of a new plant that will lift the country's Liquefied Natural Gas Production (LNG) output by 35 percent from 22 Million Tonnes Per Annum (MTPA) to 30 MTPA.
Kachikwu noted that the expansion is necessary to catch up with other countries, secure a significant share in the global LNG market and help with domestic supply of gas.
He said, "The transition to cleaner energy is going to happen faster than you think. As we reconstruct our refineries, we are going to be looking at how to make them more green-friendly, but every indicator of our studies shows that the fastest move we are going to make to green energy is on gas.
"Although your market today is focused on externalization, you will soon see government policies drive you towards internalization very rapidly. So you need to grow those volumes for the teeming population we have. I challenge you to look at this and grow from the 30 MTPA you are talking of now to about 40 MTPA over the next 30 years."
The Train 7 project of the NLNG when completed would improve Nigeria's gas exports, moving the nation from seventh to third largest LNG exporter globally.