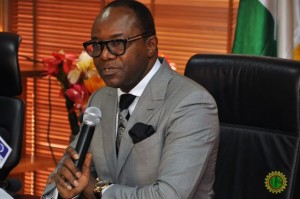 The agreement that Nigeria signed with joint venture partners on Thursday will increase the nation's revenue by $2 billion per annum, according to the Minister of State for Petroleum, Dr Ibe Kachikwu.
According to Kachikwu, net payments to the Federation Account is expected to double from about seven billion dollars to over 14 billion dollars by 2020.
"The immediate effect of the new cash call policy will increase net revenue per annum by about $2 billion.
"These strategies which are fully supported by the National Economic Council (NEC) will lead to an increase in national production from the current 2.2 million barrels per day (mbpd)to 2.5mbpd by 2019.
"It will also see a reduction in Unit Technical Costs from $27.96/Barrel Oil Equivalent (boe) to $18/boe," he said.
The agreement signed with international oil companies will enable the nation exit from the joint Venture Cash Call (JVC) arrears accumulated over 14 years, totalling 6.8 billion dollars.
Kachikwu outlined other innovations and initiatives championed by the ministry over the past year as revamping the sector, restoring investors' confidence and positioning Nigeria's Oil and Gas value chain for profitability.
He said the agreement was historic, adding it would bring clarity and stability to the management of the country's main revenue source.
Kachikwu said based on historical records, the current Cash Call system was structurally defective and failed to address the perennial Joint Venture funding challenges being experienced in the industry where the Federal Government under-funding of the industry through JV Cash Calls stood at $9.125 billion by September.
"This new arrangement will guarantee payments of statutory Oil and Gas Royalties and taxes by NNPC and its JV partners as well as profit from its investments in the Joint Ventures," Kachikwu said.
Earlier, while displaying his scorecard in the past year, Kachikwu said the Ministry was able to, among others, see to the successful election of Mohammed Barkindo of Nigeria as the Secretary-General of the OPEC.
He said the ministry successfully mobilised OPEC members and Non-OPEC Oil Producers to dialogue on the stabilisation of the global market in Doha; Algiers which culminated into the achievement of freeze on production at the 171st conference in Vienna.
It also ensured rise in oil prices to $55/per barrel for the first time in 16 months after negotiations with non-OPEC producers.
" Nigeria's successfully negotiated an exemption from the production freeze and the successful hosting of the 52nd Conference of Ministers of African Petroleum Producers Association in March".
Copyright Ships & Ports Ltd. Permission to use quotations from this article is granted subject to appropriate credit given to www.shipsandports.com.ng as the source.