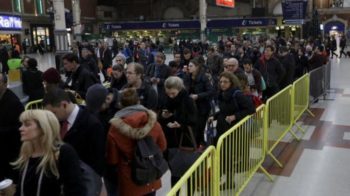 Trains on key commuter routes in southern England were cancelled for a third day Friday due to a bitter dispute affecting hundreds of thousands of passengers.
Talks aimed at averting the latest walkout by drivers broke down Thursday between Southern Rail, which runs trains from England's south coast to London, and union leaders.
More than 2,000 services were halted in a 24-hour walkout which started at midnight and affects around 300,000 passengers, including those travelling to London's Gatwick airport.
It was the thrid time this week that trains from major commuter destinations such as Brighton have ground to a halt, with around 1,000 drivers joining a 48-hour strike on Tuesday.
The government, which is responsible for awarding franchises to train operating companies, is under pressure to intervene following months of travel disruption and a series of walkouts that began in April.
A spokesman for the Association of British Commuters, which staged a protest Thursday at London's Victoria station, said passengers had "suffered a year-long nightmare".
"We have desperately called for government action and have been repeatedly ignored — even while many of us have lost our jobs, or had to move house," he added.
Transport minister Chris Grayling said he had offered to meet with union leaders if they called off strike action but lamented that "they have failed to come to the table without pre-conditions".
Nick Brown, chief operating officer of Govia Thameslink Railway (GTR), Southern Rail's parent company, said he was "deeply disappointed" that talks aimed at averting the latest strike had failed, blaming unions for the "unjustified and unprecedented industrial action."
A spokesman for train drivers' union Aslef said there was "no resolution in sight" and in turn accused the train operator of being "unwilling… to end the misery of passengers".
The shutdown has been described as the worst on Britain's railways since a series of strikes by signal workers in 1994.
It comes as Britons gear up for a string of other strikes around Christmas, with postal workers and British Airways cabin crew expected to stage industrial action in the coming weeks.