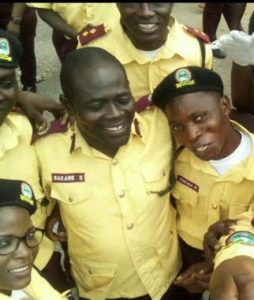 Following the gruesome killing of an official of the Lagos State Traffic Management Authority (LASTMA) by irate mob in Apapa, Lagos on Thursday, Lagos State Government on Friday described the killing as one too many and vowed to prosecute the killers.
The state's Commissioner for Transportation Prince Anofi Olarenwaju Elegushi who stated this at a press briefing in Lagos said the killing of its officer Surajudeen Olatunji Bakare by those he called, 'blood thirsty hounds who parade themselves as purveyors of transportation', will be resisted by the state government.
Elegushi said, "We have not just come here to announce a death. But we are here to state that this death is one too many.
"It is one instance of several where Lagos State Traffic Management Authority (LASTMA) officials are given raw deals either by the people they are meant to serve or police and military officers. This must stop."
The commissioner explained that eyewitness account revealed that the Lagos State Traffic Management Authority (LASTMA) vehicle did not kill anyone, saying it was the driver of the tanker that killed its motor boy who was asleep under the vehicle.
"It is authoritative that the mob action is by tanker drivers, okada riders and other persons who live around them. All of them are persons who are violating the terms of the law. They intend to have a life at the expense of all of them.
"Officer Bakare remains a victim of a forceful take-over of roads by a group of people who desires to become a law unto themselves; we have over the long years asked tank farms to provide alternatives, we have engaged with the operators and tanker drivers yet they remain intransigent. To avoid situations such as this we have proffered options. We however, remain undaunted in our resolve.
"It bears restating that Lagos State Traffic Management Authority (LASTMA) is an agency established by law. That law implies that they (its ofncers) act on behalf of government. They must be accorded the respect they very well deserve. In case of an infraction by any of them, there are due processes and complaint mechanism that redress those infractions.
"The fact is that a gallant officer has been brought down in a situation where clearly Lagos State Traffic Management Authority (LAST MA) is not culpable. Therefore we call on the Nigerian Police to do a thorough investigation. The perpetrator(s) must be brought to book and justice will be served," he said.
Elegushi emphasized that LASTMA enforcement remains a routine activity designed to ensure free flow of traffic, saying, the administration of Governor Akinwunmi Ambode is committed to civility in the process of enforcement.
Copyright Ships & Ports Ltd. Permission to use quotations from this article is granted subject to appropriate credit given to www.shipsandports.com.ng as the source.