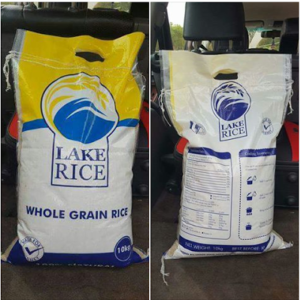 The Lagos State Government on Friday said it could not commence the sale of its lake rice on December 15 as earlier planned.
Sanni Okanlawan, Special Adviser on Food Security to Gov. Akinwumi Ambode, told the News Agency of Nigeria (NAN) in Lagos that the rice would now be on sale from next week
The government had planned to sell the rice at N13,000 per 50kg bag at the 57 Local Government and Local Council Development area headquarters from Dec. 15.
Okanlawon said the government was installing mechanisms for Lagosians to celebrate the best Yuletide without hiccups posed by money bags.
"We are working out the modalities to make sure that what the government intends to sell at N13,000 was not hijacked and sold to Lagosians at N15,000, that is what we do not want.
"From all indications, hopefully, by next week Lake Rice will be out, so, we want everything to be in place before it is out," Okanlawan said.
The Lagos State Government had on Dec. 8 promised that it was ready to roll out Lake Rice on Dec. 15 to Lagosians at N13,000 per 50 kg towards the Yuletide celebrations.
The Special Adviser made the disclosure during the Lagos Chamber of Commerce and Industry National Agriculture Stakeholders Summit.
"Lake Rice is the acronym of both Lagos and Kebbi States joint product which will be out to the public on Dec. 15 at a cost of N13,000 per 50kg bag as it is already subsidised by the government.
"To make it more available, the rice will be sold at the 57 LGA's and LCDA's for easy accessibility and to guard against unwanted persons diverting the product, the state has put in place a committee.
Lagos State had in March signed an MoU with the Kebbi State Government to produce rice paddy to be milled and packaged in Lagos State.
Copyright Ships & Ports Ltd. Permission to use quotations from this article is granted subject to appropriate credit given to www.shipsandports.com.ng as the source.