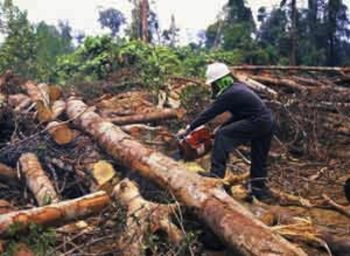 The House of Representatives on Thursday expressed disbelief over allegations that Chinese nationals had invaded Nigeria's forests, cutting down trees and illegally exporting woods out of the country.
Members said the act was a major factor contributing to the fast depleting forest reserves in the country and the negative impact on climate change.
An ad hoc committee chaired by a member from Imo State,  Bede Uchenna-Eke, is investigating the "massive deforestation and alleged corruption", which has had adverse effects on the nation's environment.
Lawmakers observed that though the activities of the Chinese and other illegal wood theft were reported to security agencies, particularly the police, it appeared that no serious measures had been taken to halt the trend.
He said the committee would summon the Inspector-General of Police, Ibrahim Idris, to brief lawmakers on measures he had taken to address the illegal acts.
Uchenna-Eke spoke further, "We asked them (wood exporters) to give us more information because they came up and said that they wrote the IGP and that it is under investigation, as the matter was reported somewhere.
"So, we need to know which state, which command, which division".
"If you have written the IG and some arrests were made, the IG ordered for investigation, we need to have details so that we can also invite the police to come and tell us how far they have gone and that will also help our committee".