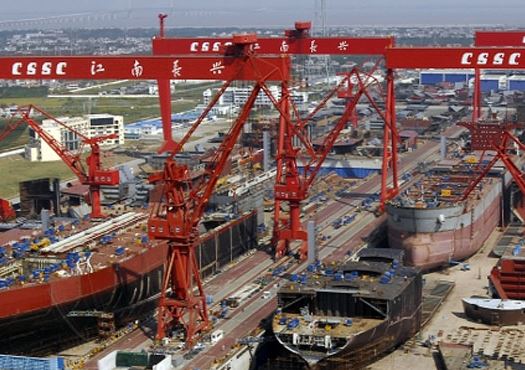 Affected by the COVID-19 pandemic domestically, the major shipbuilding indexes of Chinese shipyards showed clear decline during January-April 2022.
According to the statistics released by China Association of the National Shipbuilding Industry (CANSI), the newly received shipbuilding order volume for Chinese yards was 15.39m dwt, down 44.8% year-on-year. Shipbuilding output was down 8.6% at 11.71m dwt. Orders on hand were 102.47m dwt as the end of April, an increase of 21.7% year-on-year.
Shipbuilding export volume for the first four months of the year was 10.28m dwt, declining 14.8%, while newly received export shipbuilding orders were 13.66m dwt, dropping 44.7%. Export orders on hand were 90.17m dwt as the end of April, up 20.5%.
Production at major yards in Shanghai have been hit the city's lockdowns since late March although recent weeks have seen moves to get large-scale industrial production such as shipyards back into operation. Meanwhile globally newbuilding orders from shipowners have come off from last year's peak.
Shipbuilding export volume, new orders for export and export orders on hand accounted for 87.8%, 88.8% and 88% of national volume respectively. The export shipbuilding value was $5.83bn in the first four months, declined 10.2% year-on-year.
Chinese shipbuilding output, newly received orders and orders on hand respectively accounted for 43.8%, 54.1% and 48.5% of the global shipbuilding market share.
Copyright Ships & Ports Ltd. Permission to use quotations from this article is granted subject to appropriate credit given to www.shipsandports.com.ng as the source.