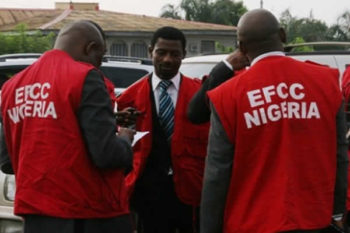 The Economic and Financial Crimes Commission (EFCC), has presented three witnesses in the trial of a Chinese national, Li Yanping, who is facing a one-count charge of money laundering for concealing $300,000.
He was arraigned on March 28, 2018, before Justice Babatunde Quadri of the Federal High Court, Abuja.
Yanping was arrested on March 15, 2018, at the Nnamdi Azikiwe International Airport, Abuja, by the Presidential Task Force on Trans-Border Cash Movement for failure to disclose the cash on him and he was subsequently handed over to the EFCC by officers of the Nigerian Customs Service.
While being led in evidence by prosecution counsel, G.K. Latona, the first prosecution witness, PW1, Yahaya Ishaq, an officer of the Nigerian Customs attached to the Task Force narrated how Yanping was arrested.
He said, "We received intel that there was a Chinese national carrying a large sum of foreign currency who was about to travel to Dubai. Acting on the information, we proceeded to the immigration checkpoints where we met other officers at the final screening point.
"The currency control officer on duty confirmed that no one stopped Yanping for checking. Consequently, we discovered $200,000 concealed in a black nylon bag in the briefcase which Yanping was carrying as hand luggage alongside $100,000 hidden in the defendant's jacket."
Ishaq, under cross-examination by the defence counsel, P.I.N. Ikwueto, SAN, further shed light on the activities of the Task Force.
He said, "The passengers declare their funds immediately at the immigration interrogation points and checking of passengers before boarding is done in an open space."
He disclosed that intending passengers are also given currency declaration forms to fill at the currency control desks. He thereafter identified the currency declaration form filled by Yanping, which was admitted by the trial judge as Exhibit A.
The second prosecution witness, PW2, Helen Ajibero, who has worked with the Nigerian Customs Service since 2009 and was on duty when Yanping was arrested further corroborated Ishaq's testimony.
Ikwueto asked PW2 if a passenger was prohibited from carrying a sum above $10,000 or its equivalent.
She said, "Any amount below $10,000 or its equivalent is permitted for passengers to travel with, but any amount above $10,000 or its equivalent must be declared and with supporting documents such as invoices, receipts for school fees, business transactions etc. as required by law."
Ikwueto further asked PW2 if the defendant had mentioned at any time during the course of interrogation that he was a businessman.
"I am not aware as there was no evidence of business receipts or invoices in this case," Ajibero added.
The third prosecution witness, PW 3, Adebisola Adewale told the court that passengers had always queued up at the currency declaration desks to obtain the currency declaration forms, "but in a bid to ease traffic and promote business, a new policy was put in place such that the currency declaration forms where sent to various airlines to enable potential passengers to fill the forms at the point of purchasing tickets and only submit them at the currency declaration desk at the airport".
Justice Quadri has adjourned to May 30 and June 1, 2018 for continuation of trial.