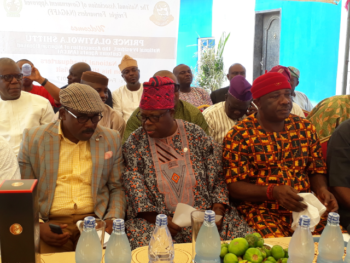 The two major industry freight forwarding associations, the Association of Nigerian Licensed Customs Agents (ANLCA) and the National Association of Government Approved Freight Forwarders (NAGAFF) have agreed to form a partnership, ANLCA/NAGAFF Initiative (ANI) in order to present a common front in addressing operational challenges.
Speaking during his official visit to the headquarters of NAGAFF at the weekend, President of ANLCA, Prince Olayiwola Shittu said the past situation where the two associations had been looking at things from different perspective was doing a lot of damage to the industry and members of the associations.
According to him, those with exploitative tendencies have been feeding fat on the disunity between the two associations whose members often bore the brunt of the impunity which characterised anomalies in the system. 
He said with the new partnership, both associations will be able to address the anomalies which includes extortion and impunity by customs and other government agencies, which are militating against the ease of doing business and making Nigerian ports uncompetitive.
"After a careful analysis and scrutiny of the situation in the industry, the leadership of the two associations through divine inspiration, have come to realize that enough is enough in the interest of the future of the industry and our dear country because people are benefitting from the division between us.
"Now that we have now seen the light, we have now come together to address the anomalies we have identified, anomalies being perpetrated by government agencies at the ports and land borders. Unfortunately, these conducts militate against our ports being competitive and friendly and above all militating against the ease of doing business," he said.
Shittu identified issuance of different alerts by customs, absence of functional scanners, delay in writing reports even after completion of physical examination and mounting of road blocks by officials of the Standard Organization of Nigeria (SON), thereby inhibiting smooth trade flow as factors militating against trade facilitation.
He pledged to sustain the ANLCA/NAGAFF Initiative even to the point where his successor will not reverse it.
Earlier, Acting President of NAGAFF, Increase Uche said the alliance will help in cementing the ties between the two associations and formed the foundation for better working relationship that would fast track the development of the freight forwarding and customs brokerage profession.
He said both associations would work to recover the Council for the Regulation of Freight forwarding in Nigeria (CRFFN) and ensure that it carries out its statutory mandate for which it was established.
He said, "Had it been we have not seen the need to collaborate and form this alliance of this kind, one would have wondered how the plan by some elements proposing the amendment of the CRFFN Act would have been handled. This again goes to buttress the need to sustain this initiative and perfect the union because there is strength in unity."