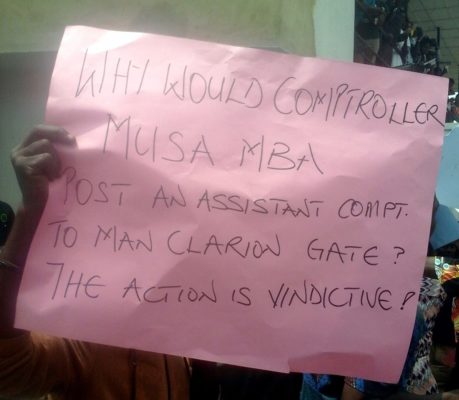 Some clearing agents operating in Clarion Bonded Terminal have taken to some streets of Lagos to protest an allegation of extortion by Customs officers.
The protesters obstructed activities in the terminal on Monday and sent staff members and customers out of their offices shouting, "no work today."
They took to the street of Old Ojo road, Alakija, Lagos, amidst fireworks and obstruction of traffic, calling for the removal of the Customs Officer in Charge (OC), Peter Olaniyan, for allegedly collecting illegal fees from them.
They said he introduced a controller's watch list, a list where containers are placed on blacklist, which they said was to extort money from them.
One of the protesters, Ifeanyi Paul, said they are insisting on Olaniyan's removal.
"Our demand is that OC Gate be removed from such a small terminal like this. Do you know that this officer, many times, will place our containers on what he called controller's watch list?
"Then demand we pay the sum of N100,000 for each container to remove our container from the list. That is extortion. There is nothing like this in other terminals."
Another protester, Okechukwu Ogbonna, said he has lost over N10 million to the Customs' demand.
They also accused Olaniyan of subjecting their containers to double examinations, which had resulted to loss of time and money.
"Shipping companies and terminal operators will charge you each container without government doing anything to the bad road. Instead of fixing the roads, they rather sent their watchdog to extort us.
"We are protesting against the double examinations by OC gate, an action since abolished by customs management. OC gate must go. Clarion bonded terminal is one of the best but the only problem is the Customs officer," he said.
Another protester, Ejike Metuselah, who claims to be an importer, said, "What we are seeing here is someone using government officials against competitors. We are saying this victimisation must stop. We will not take it. Our questions is, why do they want to send Clarion bonded terminal out of business? Nobody should be used against it."
The protesters further revealed that no bonded terminal in Nigeria has Customs officer in charge of the gate except Clarion.
However, when contacted, Olaniyan dismissed the protesters' allegations.
"There is nothing going on than personal issue between me and Madam (owner of Clarion)," he said.
The spokesperson of Tin Can Island Customs Command, Uche Ejesieme, said the controller had dispatched a team led by a Deputy Controller to investigate the situation.
"I'm sure, within two hours, we will be able to come up with what is wrong there," Ejesieme said.
Copyright Ships & Ports Ltd. Permission to use quotations from this article is granted subject to appropriate credit given to www.shipsandports.com.ng as the source.