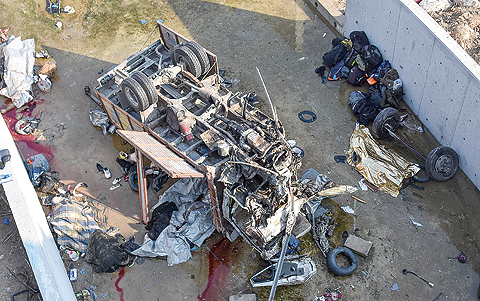 Turkish authorities detained five people on Monday in connection with a deadly migrant truck accident in which 22 people were killed, reports said.
Among those detained were three Syrians, state-run Anadolu news agency said.
The Turkish driver, who survived the crash, was also detained, DHA news agency reported.
There was no immediate information on the charges against them although it was likely some of the detainees were suspected people smugglers who often take thousands of dollars from migrants to arrange logistics.
The truck was travelling on a highway near Izmir airport when it swerved off the road early on Sunday and plunged into a river channel.
The migrants, who had several inflatable dinghies with them, were reportedly heading for the coast to try and reach Greece's Samos Island.
Thirteen people were injured in the crash.
Turkey is a key transit point for migrants from troubled countries in the Middle East, Asia and Africa seeking a new life in Europe.
A million migrants crossed from Turkey into Greece in 2015, mostly by boat, in a crisis, which forced a deal between Ankara and the EU to stem the flow of people.
Numbers have since fallen but people are still making the highly-perilous journey and the flow has ticked up this year from 2017.
Last week, eight migrants were found drowned off the Karaburun district, also in Izmir province, after their boat capsized.
Twenty-six others are still officially listed as missing after that accident.
Eleven people also died in northern Greece on Saturday in a head-on collision between a truck and a car thought to be carrying migrants.