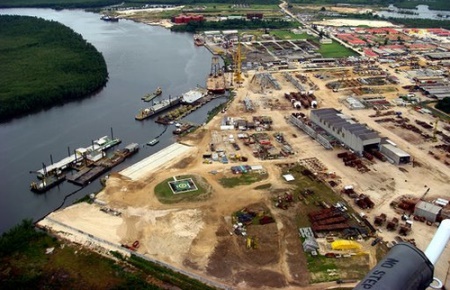 Clearing agents and freight forwarders operating at the Onne port in Rivers State have called off the strike action embarked upon last week.
The strike was in protest of alleged high handedness by officials of the Nigeria Customs Service, Onne Port Command.
The agents had accused the Customs Intelligent Unit (CIU) of delaying the exit of containers at the port in an attempt to extort them.
Chairman, Association of Registered Freight Forwarders (AREFFN), Obinna Ugochukwu, who confirmed the development to SHIPS & PORTS said the strike was called off on Monday after a meeting with the Customs and the registered freight forwarders groups including AREFFN, Association of Nigerian Licensed Customs Agents (ANLCA) and the National Association of Government Approved Freight Forwarders (NAGAFF).
According to him, 65 per cent of their demands have been met by the Customs command with the promise that the others will be addressed by the Customs management at the headquarters and the leadership of the freight forwarding associations.
Ugochukwu said a committee has also been set up to interface with Customs to curb extortion during cargo clearance.
"The strike has been suspended. They ( Customs) have met about 65 percent of our demands and the remaining ones, which includes the removal of the CIU team leader and the OC gate, our leaders are handling it in Abuja with the Customs management while we start work.
"We have set up a committee that will interface with the Customs in order to look into the areas we are having challenges especially in duty payment and harmonization of how cargoes are being clear at Onne to avoid extortion.
"For example when you capture your job and finish examination instead of you to proceed to terminal for your release, you are meant to come back to Customs Processing Centre (CPC) again, to which we say it is abnormal because it causes delay and demmurage for the agents and importers. Now, they have accepted that we should go on with the normal procedure apart from some jobs that they might have interest in or those that have NDLEA, SON or NAFDAC alert," he said.