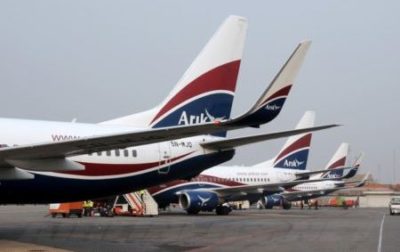 Flight operations of Arik Air and Air Peace, were on Friday disrupted by the Nigeria Labour Congress (NLC) and the Trade Union Congress (TUC) who invaded the General Aviation Terminal (GAT), of the Murtala Muhammed Airport, Lagos.
The labour union members, who arrived as early as 6.30am, took positions inside and outside the terminal building for over four hours, forcing the two airlines to stop processing passengers.
Passengers who had arrived at the airport for the early morning flights could not access the terminal while those who were already inside could not be checked in as the airline staff were forced to desert their duty post.
However, normal flight operations went on smoothly at the Murtala Muhammed Airport Terminal 2 where Med-View Airline, Overland Airways, Dana Air, Azman Air and Aero operate from.
The unions did not go to the terminal operated by Bi-Courtney Aviation Services Ltd (BASL).
Reacting to the disruptions, Air Peace Communication Manager, Mr. Chris Iwarah described the labour's action as "sad" and "unfortunate".
Iwarah said, "It is sad; with what the unions have done, it affects all our operations. And because we did not follow our schedule, we may be unable to do our late flights into airports like Owerri, Benin, Ondo because the landings on those airports are visual.
"We are not against the unions' strike but they can carry out their industrial action without using it to affect the private businesses of others."
Speaking also, the spokesman for Arik Air, Mr. Adebanji Ola said the unionists disrupted operations at its counters.
He however said normal, flights operations have resumed.