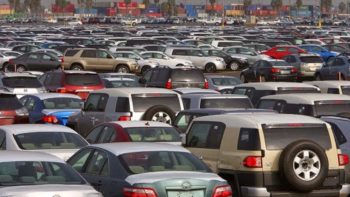 The Association of Nigerian Licensed Customs Agents (ANLCA), Seme Chapter, on Friday urged the Federal Government to grant a three-month grace period before enforcing the ban on importation of vehicles through the land borders.
The Chairman of the association, Alhaji Bisiriyu Danu, made the plea while speaking with newsmen in Badagry, Lagos State.
The Federal Government had on Dec. 5 placed a ban on  importation of used and new vehicles through the land borders with effect from Jan. 1, 2017.
According to a statement issued by the Nigeria Customs Service (NCS), the ban is sequel to a Presidential directive restricting all vehicle imports to Nigerian seaports only.
The ANLCA chief said the grace period would enable ships carrying vehicles to berth for clearance before implementation of the ban.
Danu said the ban would create unemployment, increase revenue leakages and could result in massive smuggling.
He said that vehicle importation through the land borders had provided employment to over 500,000 graduates, adding that these ones would have ordinarily been roaming the streets due to unemployment.
"We should not forget that such a policy was employed in the past and it led to serious revenue leakages and massive smuggling along the border areas, which led to concomitant wastage of material resources.
"There are thousands of unapproved access routes through which these consignments can enter the country but at the moment, there has been a measure of compliance so the right channel is being followed.
"All these would change with the effect of the ban.
"The Federal Government generates enough revenue on vehicle importation as the Seme Customs Area Command alone generates N600 million monthly on vehicle duties.
"However, all that will change with the ban placed on the border importation of automobiles.
"The government should consider all these factors including the fact that the country is going through recession and this policy is going to worsen the hardship of Nigerians," the ANLCA chief said.
He said that advanced countries were not totally self-sufficient, adding that most Nigerians could not afford to purchase brand new vehicles.
"No country is totally independent and self-sufficient as we need each other for socio-economic growth and survival and Nigeria is not an exception.
"Most Nigerians cannot afford to buy brand new cars; so, buying cars from neighbouring countries has helped in bridging that gap.
"Government should please reconsider for the sake of the poor, average masses," Danu said.
He said government should give a grace period of three months before enforcing the ban to enable ships carrying vehicles to berth for clearance before implementing the policy.
Copyright Ships & Ports Ltd. Permission to use quotations from this article is granted subject to appropriate credit given to www.shipsandports.com.ng as the source.