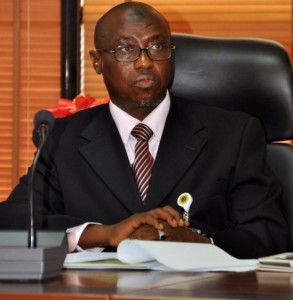 The Group Managing Director of the Nigerian National Petroleum Corporation (NNPC), Maikanti Baru, has approved the partial closure of the Olokola Liquefied Natural Gas (OKLNG) project with effect from today December 31, 2016.
This is coming as workers on the project decry the non-payment of their entitlements. OKLNG is situated in a border town between Ondo and Ogun States. In a letter signed on November 9, 2016, the GMD approved the partial closure of the company stating "Approved as prayed in paragraphs one and two above. The staff on site should be drastically reduced, if not completely demobilised and the camp be put on full preservation mode."
Paragraph one of the letter stated that "OKLNG project is currently 100 percent funded by NNPC following the withdrawal of BG, Shell and Chevron in 2012/2013."
Paragraph two of the letter stated that "The project has suffered delay due to prolonged development since 2006 with the project expenses put at about $546 million since inception to date. This includes a proposed $4,580,940 million for 2016 work programme and budget which is to be funded by NNPC."
The letter also noted that the non-inclusion of exit formalities for the shareholders has hindered the search for new investors, hence, the funding burden may continue to linger on NNPC for a while. The NNPC boss, however, did not issue any directive about the 44 contract staff, some of whom had put in between seven to 11 years in the company, neither was notice of the company's closure communicated to the affected workers.
According to sources, the staff will be paid severance package commensurate with the number of years spent in OKLNG.
"Contract job in Nigeria is slavery. It is even unfortunate that NNPC is involved in short changing Nigerian citizens. It is really sad. NNPC should have paid them a minimum of one year salary," one of the sources said.
Copyright Ships & Ports Ltd. Permission to use quotations from this article is granted subject to appropriate credit given to www.shipsandports.com.ng as the source.