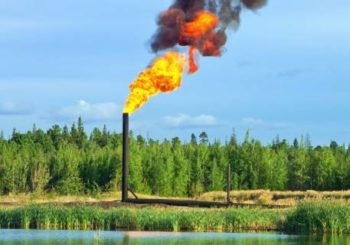 The Nigerian National Petroleum Corporation (NNPC) in its Monthly Financial and Operations Report for August has revealed that Nigeria's Gas flare rate stands at 12.00 per cent.
The monthly report released on Wednesday in Abuja said that the 12.00 per cent gas flare rate which translates to 919.73mmscfd was at August 2017 compared to 10.03 per cent for the preceding month of July 2017.
The Group General Manager, Group Public Affairs Division of NNPC, Ndu Ughamadu disclosed this in a statement.
According to the statement, Nigeria was among countries with highest gas flare rates, but a number of Clean Development Mechanism (CDM) projects aimed at appropriate gas utilization have improved the country's standing in this the regard.
The report gave an average gas flare rate of 10.15 per cent, which is 734.56mmscfd, for the period August 2016 to August 2017.
The monthly report also showed that despite enormous challenges facing the downstream sub-sector of the Petroleum Industry, the state oil firm has continued to maintain adequate products supply nationwide.
It attributed the success story to strategic interventions by the Corporation in respect of Automotive Gas Oil (AGO) supply, revamp and re-commissioning of critical pipelines and depots across the country, as well as robust engagement with critical Downstream stakeholders, among which are Major Oil Marketers Association of Nigeria, (MOMAN), Nigerian Association of Road Transport Owners (NARTO), Petroleum Tanker Drivers Association of Nigeria (PTDAN) as well as the Independent Petroleum Marketers (IPMAN).
The NNPC informed that Products pipeline breaches stood at 70 points for the month of August 2017 out of which 62 pipelines were vandalized.
The strategic Port Harcourt-Aba pipeline was singled out as a major culprit, accounting for 46 vandalized points (or 74 per cent of total recorded cases).
To tackle the challenge, the Corporation in collaboration with Federal Government has continued to engage members of various host communities to stem incidences of pipeline infractions.
The NNPC Report also listed security synergy with IOCs as part of the steps taken to stem oil and gas sabotage which involved deployment of a structured and holistic security apparatus in operational areas.