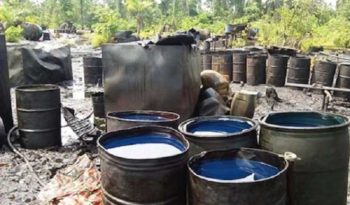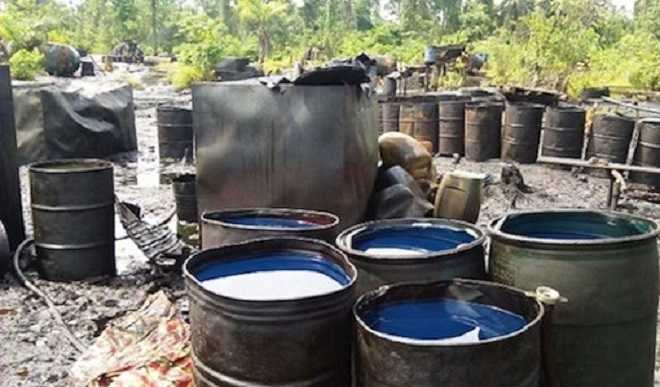 Operatives of the 4 Brigade Command of the Nigerian Army has arrested two persons in connection with operating an illegal refinery in Uhunmwode Local Government Area of Edo State.
One of those arrested was said to be a lady who had gone to the illegal refinery with a truck load of gallons apparently to buy diesel and kerosene.
It was learnt that the large illegal refinery camp located in Obazagbon had several storage tanks for crude which was allegedly siphoned from a broken crude oil pipeline belonging to the Nigerian National Petroleum Corporation (NNPC).
It was gathered several items, including pipes used for the distribution of the refined products to tankers, were abandoned at the scene by the operators, most of whom fled before the arrival of the army personnel.
Over 300,000 litres of crude oil and other refined products were said to have been destroyed during the military operation.
The Brigade Commander, Brigadier-General Ibrahim Garba, who led the team, decried the degradation of the environment during the illegal refining of crude oil in the area.
Garba said that the special force put in place by the army would not tolerate the sabotage of the economy by those he mischievous persons. According to him, the Nigerian Army would not fail in its responsibility of ridding the state of all forms of criminal activities, including economic sabotage.
He, however, urged the management of the NNPC to install sensors on its oil pipelines or use Air Force helicopters for surveillance.
The brigade commander also commended members of the public for providing information which led to the discovery of the camp.