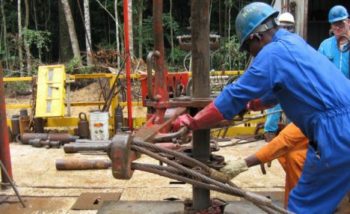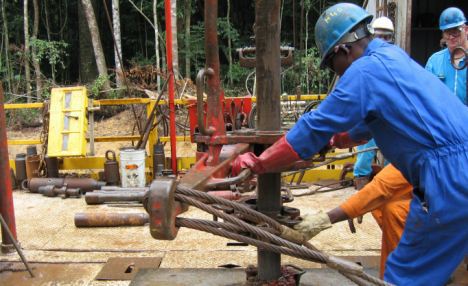 The Nigerian National Petroleum Corporation (NNPC) said it had commenced exploration activities in the Gongola Basin as part of its efforts to further expand the nation's oil resource base.
The group managing director of NNPC, Dr. Maikanti Baru, disclosed this yesterday while hosting the management of Media Trust Ltd which had visited him at the Corporation's headquarters in Abuja.
Speaking on recent developments since he assumed office in July 2016, Dr Baru said, "Aside increasing the nation's oil and gas reserves to 37 billion barrels of oil and 192 trillion cubic feet of gas respectively, the Corporation has also commenced exploratory activities in the Gongola Basin with the aim of further growing oil and gas reserves and taking advantage of low oil prices which make inland exploration cost effective."
Baru further explained that NNPC now runs as a FACT-based corporation (Focused, Accountable, Competitive and Transparent organisation conducting its business with Integrity).
He said the new wave of openness and transparency attributable to the Corporation's monthly operational and financial reports, which are always in the public sphere, had earned the NNPC accolades from Nigerians.
"With the consistent release of our monthly financial and operational reports, the Nigerian Extractive Industries and Transparency Initiative (NEITI) recently commended us for embracing openness, subjecting our activities to greater public scrutiny and providing real-time information about the state of the nation's oil and gas sector," he said.
In another development, the NNPC boss stated that, as part of efforts to find a lasting solution to the perennial problem of pipeline vandalisation and sundry security challenges bedeviling the oil and gas industry, the NNPC had outlined plans to establish a security advisory council.
According him, the Corporation needed to evolve new measures to bring an end to pipeline vandalisation which, he said, is a major threat to the nation's economy.
He said the proposed security advisory council would involve critical stakeholders including security agencies, Niger Delta leaders and international oil companies, and would address all security and host community agitations.
"We want to passionately appeal to those behind indiscriminate acts of infrastructure vandalism to put an end forthwith to these despicable acts which are a great threat to the economy, the eco-system and energy security of the country," he said.
Copyright Ships & Ports Ltd. Permission to use quotations from this article is granted subject to appropriate credit given to www.shipsandports.com.ng as the source.