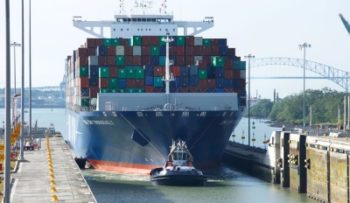 The 14,863 teu CMA CGM Theodore Roosevelt on Tuesday became the largest vessel to transit the new locks, following a route between Asia and the east coast of the United States.
"Today's transit of the Theodore Roosevelt not only highlights the growing success and acceptance of the maritime industry for the expanded Canal, but also its impact on redesigning world trade," said Panama Canal Administrator Jorge Quijano.
The CMA CGM Theodore Roosevelt is deployed on the new OCEAN Alliance's weekly South Atlantic Express (SAX) service, which connects Asia and US East Coast ports via the Panama Canal. 
The SAX service is composed of 11 vessels ranging in size from 11,000 to 14,000 teu, including vessels which also transited the expanded Canal earlier in May becoming the largest capacity ships to do so at time. 
CMA CGM Theodore Roosevelt began his voyage in Shanghai and will arrive at ports on the east coast of the United States, including Norfolk, Savannah, and Charleston. These terminals have registered growth and reached new tonnage marks after the investments they made to accommodate the ships that can now transit the enlarged Canal.
For this trip, Theodore Roosevelt will also arrive in the Port of New York and New Jersey, which completed a $1.6bn project to raise the Bayonne Bridge to 215ft. The investment will allow the third largest port in the United States to receive for the first time more than 9,500 teu in three of its four terminals.
In addition to the new capacity record, the vessel took advantage of the environmental efficiencies of the expanded Canal by saving 29,561 tonnes of CO2, compared to those it would have emitted if it had followed the alternate route from the Cape of Good Hope. The reduction of emissions has been one of the keys of the expanded Canal, which from its first year of operations until last June, contributed to reduce 17m tonnes of CO2 as it facilitates the transport of greater maritime cargo in a shorter route.
The average number of daily neo-panamax transits is 5.5 and the waterway has registered 1,782 neo-panamax transits and another 220 panamaxes in the new locks as of 15 August. Overall canal traffic has increased by 354 transits this fiscal year, amounting to a 3.2% surge.     
Copyright Ships & Ports Ltd. Permission to use quotations from this article is granted subject to appropriate credit given to www.shipsandports.com.ng as the source.