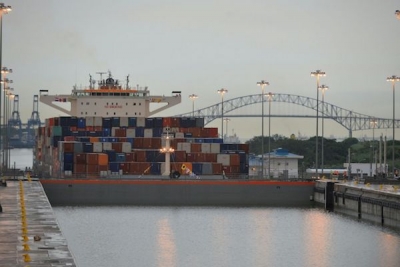 Panama's Cabinet Council on Tuesday officially approved a proposal to modify the Panama Canal tolls structure, and the new tolls structure will enter force on 1 October 2017.
After a thorough analysis of the current utilisation and productivity of the Neopanamax locks, and after meetings with Panama Canal executives, customers and industry representatives in Europe, Asia and North America, the proposed tolls modifications were officially announced on 1 June 2017.
This was followed by a formal consultation period to ensure all interested parties could provide feedback for consideration. And on 5 July 2017, the Panama Canal held a public hearing to discuss the tolls structure modifications proposal, where the ACP received written comments from 12 representatives of associations, shipping lines and shippers—three of which presented comments in person at the hearing. All comments received were then carefully evaluated and analysed.
The approved tolls modifications are scheduled to go into effect on 1 October 2017, at the beginning of the Canal's fiscal year 2018 (October 2017-September 2018).
For the containership segment, the approved tolls structure offers more attractive rates per loaded containers on the return voyage, applicable only to neo-panamax vessels deployed on the Canal route in the head and back haul legs, and when: (1) the utilisation rate of the northbound transit is higher or equal to 70%, and (2) the time lapse between the northbound and the southbound transit is not greater than 28 days.
In order to promote the use of the services provided within Panama's logistics hub, any additional days that the vessel requires to perform port-related activities in the Panamanian terminals will not add to the 28-day period.
Additionally, the new structure modifies the tolls charged to LNG and LPG vessels, which will be set at the levels presented in the original tolls proposal. This decision was made after a careful analysis of the impact of the proposed increases in the supply chain and final user.
Finally, container/breakbulk vessels—formerly part of the others market segment—will be reclassified into the general cargosegment, thus resulting in more attractive tariffs for customers in this category.
The approved proposal will better facilitate the Canal's goal of providing outstanding service and reliability to the global shipping and maritime community, while allowing the ACP to safeguard the competitiveness of the waterway.
Copyright Ships & Ports Ltd. Permission to use quotations from this article is granted subject to appropriate credit given to www.shipsandports.com.ng as the source.