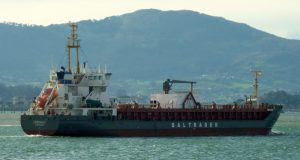 Three foreign flagged ships were detained in UK ports in July 2017 after they failed Port State Control (PSC) inspection, the country's Maritime and Coastguard Agency (MCA) said.
The vessels in question are Cap Ferrat, Aristidis and Ocean Vantage.
The Cyprus-flagged bulk carrier Cap Ferrat was detained at Immingham on July 21 after an inspection found fourteen deficiencies with ten grounds for detention. The 2000-built bulker was released on July 27.
Furthermore, the 2006-built oil/chemical tanker Aristidis was arrested at Royal Portbury on July 19, with eight deficiencies and six grounds for detention. The ship, which flies the flag of the Marshall Islands, was released on July 22.
The third vessel, Ocean Vantage, was put under detention also at Royal Portbury on July 8 because of thirteen deficiencies with two grounds for detention. The Panama-flagged offshore supply ship was released from detention on July 13.
Seven vessels remained under detention from previous months. They include Reggae, Toba, Seccadi, Tahsin, Malaviya Seven, Sea Trident and Cien Porciento.
As informed, a total of six vessels remained under detention at the end of July.