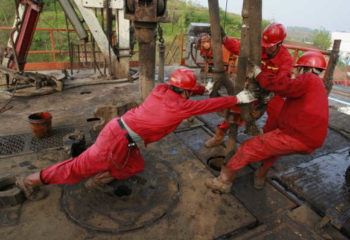 Cargo offer differentials softened slightly this week for Nigerian crude, though barrels continued to trade relatively quickly. Strong demand from refineries worldwide was keeping all West African grades selling quickly relative to recent months.
NIGERIA
* Several cargoes had traded in recent days, but differentials were softening from the highs of recent weeks.
* Exxon had sold a cargo of Qua Iboe, and while the sale price was not clear, offer levels had fallen back to dated Brent plus $1.60 a barrel from as high as $1.70 the previous week.
* Just under 28 million barrels for September loading were left to trade, with demand still coming from refineries in Europe and the United States that were running at full steam on the back of strong margins.
* Bonny Light remained under force majeure, but cargoes were still loading.
ANGOLA
* BP had sold an end-September cargo of Kissanje, traders said, possibly to India's IOC.
* The bulk of the September programme had already traded, driven by the tightness of medium and sour crude and renewed demand in Asia.
* A handful of cargoes remained, including a Girassol with Total, Saturno with BP and cargoes with Statoil and ENI.
TENDERS
* Indonesia's Pertamina issued a tender to buy a 600,000-barrel cargo of West African crude, but Asian and Mediterranean crudes would also be considered.
* Indian Oil Corp was running a tender to buy October-loading crude, including West African, Middle Eastern, U.S. or Canadian crude. Offers close on Aug. 9 and need to remain valid until Aug. 10.
RELATED NEWS
* U.S. crude stocks fell last week as refineries boosted output to their highest capacity in 12 years, the Energy Information Administration said, but a surprising increase in gasoline stocks cut into gains in oil prices.