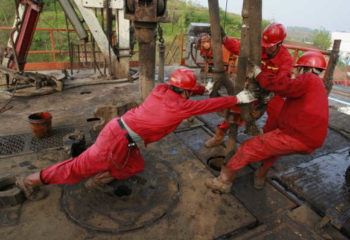 Angolan state oil company Sonangol was finalising its allocations of June-loading cargoes to term buyers on Wednesday, while offers in the well-supplied Nigerian market edged lower.
ANGOLA
* The Angolan loading programme for June was issued on Tuesday and includes 52 cargoes, or 1.67 million barrels per day, higher on a daily basis than May's schedule.
* Sonangol has allocated 13 June-loading cargoes on a term basis, a trade source said, and was not yet showing any spot offers. Another trade source said the term allocation was still being finalised.
NIGERIA
* The market is quite well supplied, traders said. There are more than 20 cargoes of Nigerian crude looking for buyers, plus additional cargoes have been offered ex-storage.
* Offers looked to be under downward pressure. Vitol was offering Escravos on a delivered basis in Europe at dated Brent plus $1.75 a barrel, 15 cents lower than a similar offer on Tuesday.
TENDERS
* Indian refiner BPCL is buying a cargo of Agbami from Chevron in its latest tender, two sources said.
* More detail trickled out on Indian Oil Corp.'s buying tender, the initial result of which was reported on Tuesday. Total is supplying Indian Oil Corp. with 2 million barrels of Akpo and Clov, and Vitol is supplying a total of 3 million barrels including Okono, a source said.