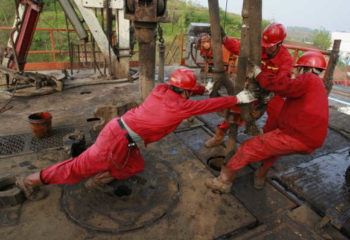 Several Angolan cargoes traded on Wednesday, while 2 million barrels of Nigerian oil found a home in India. Differentials were under pressure due to uncertain demand in Asia and a larger Nigerian export plan in May, but flat prices rose along with benchmark Brent on the back of supply disruptions in Libya and a drop in U.S. fuel stocks.
ANGOLA
* Angolan state oil company Sonangol sold two cargoes from its May programme, a Sangos and a Gimboa.
* The sale prices were not immediately available. The company had been offering Sangos at a 20 cent discount to dated Brent and Gimboa at a 10 cent premium.
* It was also offering Dalia at a 10 cent discount, Saturno at a 30 cent discount, as well as Hungo and Saxi at premiums to dated Brent of 10 and 35 cents, respectively.
* BP also sold a cargo of Plutonio destined for South Africa, a trader said, while Philipps66 won the latest tender for Olombendo.
* Angola in May will export a total of 1.61 million bpd.
NIGERIA
* India's BPCL purchased two million barrels of Nigerian crude, one Agbami and one Qua Iboe, via its latest tender, traders said.
* Sellers were offering May-loading Bonny Light and Qua Iboe at premiums to dated Brent just over $1 per barrel. No sales had yet been reported at those levels.
* Few spot trades were concluded as sellers waited the results of the BPCL tender.
* Nigeria's crude oil exports are set to rise to 1.66 million barrels per day (bpd) in May.
TENDER
* India's BPCL purchased Qua Iboe and Agbami from Chevron in its latest tender to buy crude. Sources said both are expected to load in April.
* There are also tenders out to sell Congo's Djeno and Cameroonian Kole.
RELATED NEWS
* OPEC oil output is likely to fall for a third straight month in March, a Reuters survey found on Wednesday, as the United Arab Emirates made progress in trimming supplies while maintenance and unrest cut production in exempt nations Nigeria and Libya.
* U.S. gasoline stocks and distillate stockpiles dropped sharply last week, while crude inventories grew less than anticipated, a relief for those hoping for a drawdown in petroleum stocks, the Energy Information Administration said on Wednesday.