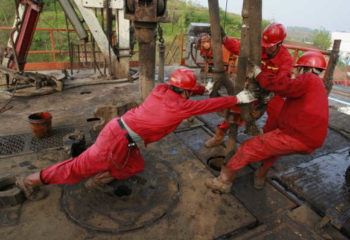 More May exports emerged from Nigeria, while state oil company NNPC boosted official selling price (OSP) differentials for April despite expectations of a decline.
NIGERIA
* NNPC raised its OSPs for Bonny Light and Qua Iboe despite widespread expectations that they would soften due to steadily falling spot differentials.
* It raised April OSPs for Bonny Light to dated Brent plus 43 cents, from 31 cents in March, and Qua Iboe to a 60 cent per barrel premium, from 36 cents in March. Only Akpo was lowered to a $1.11 discount, from a 73 cent discount.
* Cepsa bought one of the April-loading Qua Iboe cargoes that had yet to trade, sources said, and despite the sales from storage the prompt market was clearing.
* Traders said there are still loading delays on some grades, including Qua Iboe and others.
* Agbami exports are set to rise to 252,000 bpd in May, from 228,000 bpd in April, while Brass River exports are expected to climb to 112,000 bpd from 108,000 bpd. Akpo exports were planned at 126,000 bpd, down from 133,000 bpd.
ANGOLA
* Total sold its end-May Girassol to Shell, while Chevron sold a cargo of Cabinda to an unspecificed buyer.
* Unipec again won the tender from ENI to buy Olombendo in May. Traders said the differential was below the 30 cent discount Unipec paid for the April-loading cargo.
* Unipec was offering several April cargoes, including Saturno, Mondo, Nemba, Kissange, Hungo and others.
* Traders said Sonangol's offers for the six spot cargoes it had were too high and would likely soften. The company was offering Hungo, Saxi, Gimboa, Saturno and Dalia grades.
* Some grades from other countries also traded, with Vitol buying Doba from ExxonMobil and Anadarko selling Jubilee.
TENDERS
* Taiwan's CPC also took a VLCC from Statoil with one cargo of CLOV and another of Saxi in addition to the one cargo of Qua Iboe from Vitol.
* A tender from India's BPCL for May loading cargoes closes early next week.
RELATED NEWS
* Saudi Arabia maintained its spot as China's top oil supplier in February, two months into the first OPEC output cuts in almost a decade, with shipments up 5 percent on a daily basis from January, data showed on Thursday.
* The price of North Sea crude that helps set global prices has risen for early April despite ample supply in floating storage, supported by expectations that at least one supertanker shipment will be leaving the region for Asia next month.