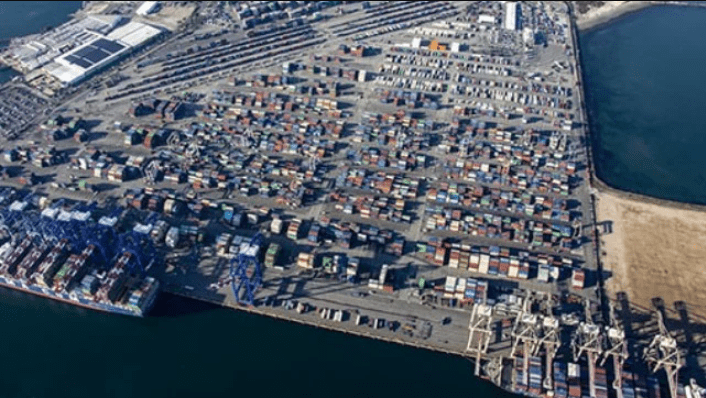 French shipping giant CMA CGM has announced an agreement to buy back its 90% stake in the Fenix Marine Services (FMS) terminal in Los Angeles in a deal that values the terminal at $2.3 billion, more than double the value from when CMA CGM last sold it in 2017.
The 90% stake is currently owned by EQT Infrastructure III with CMA CGM holding the other 10%.
CMA CGM sold the stake to EQT Infrastructure in a 2017 sale that had an enterprise value of $875 million after initially acquiring the terminal in 2016 as part of its $2.4 billion takeover of Singapore's Neptune Orient Lines (NOL). The 2017 sale of the terminal, previously known as Global Gateway South, had been planned as part of CMA CGM's strategy to pay down debts from the NOL takeover, which marked the Marseille-based group's biggest-ever acquisition, in addition to a broader strategy to focus on its ocean shipping business.
EQT Infrastructure has reportedly invested more than $130 million in the terminal on equipment and technology upgrades. The sale comes as another EQT fund, EQT Exeter, completes a $6.8 billion industrial portfolio sale, consisting of modern supply chain and e-commerce facilities, in what is said to be among the largest in US history.
FMS is the third-largest terminal in the Los Angeles/Long Beach port complex and one of the largest in North America with a capacity of around 2.5 million TEU. Upon closing, CMA CGM will become sole owner of the facility.
CMA CGM says the new acquisition, which will be funded from its own resources, will bolster its position as a global port terminal operator. The group currently has investments in 49 port terminals in 27 countries through its two subsidiaries CMA Terminals and Terminal Link, a joint venture.
"The swift recovery of the global economy has demonstrated the importance of ports and logistics infrastructure," said Rodolphe Saadé, Chairman and CEO of the CMA CGM Group. "In order to manage efficiently our port operations on the West Coast of the United States, we have decided to acquire Fenix Marine Services. Fenix Marine Services is one of the largest terminals in this country and one of its most strategic gateways. It is a key industrial facility which will significantly strengthen our position and support our rapid growth in this market."
Amid the craziness in container shipping, CMA CGM has seen its net profit soar nearly 3,000% in the first six months of this year to $5.5 billion. The group is also one of the leading ocean carriers on Transpacific routes, operating 24 services.
The company says it also has significant investments planned for the terminal in the coming years, including an extension of the container yard to increase capacity "in a staged approach"; expansion of the terminal's rail capacity; construction of a new berth; and continuation of the terminal's digital transformation.
By early 2022, the FMS terminal will also welcome the first CMA CGM liquefied natural gas-powered 15,000-TEU ships to be deployed on routes between Asia and the United States.
CMA CGM is the world's number 3 liner operator with about 12% market share, behind Mediterranean Shipping Company (MSC) and top carrier Maersk, according to Alphaliner.