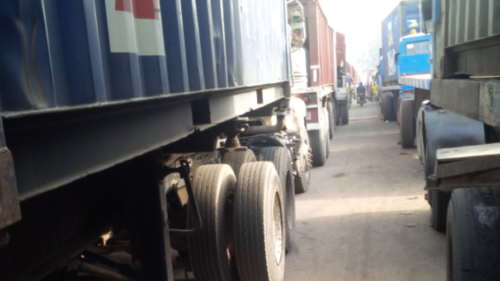 A coalition of truck owners' operating in the maritime sector on Monday, urged members to embrace the newly introduced temporary call-up system by the Nigerian Ports Authority (NPA) in order to ease the gridlock in Apapa and environs.
The group made the call in a joint statement by Chief Remi Ogungbemi for the Association of Maritime Truck Owners (AMATO) and Alhaji Wasiu Oloruntoyin, for Container Truck Owners Association (COTOAN) in Lagos.
"In view of the gridlock staring the faces of truckers, stakeholders in maritime industry, Apapa residents and the public at large, all our members are hereby directed to follow the newly-introduced call-up system by the NPA Management.
"This initiative by the NPA is to help regulate the movement of all trucks/tankers into the ports and Tank Farms," the statement read.
The group noted that the call-up system by the NPA Management will help re-position their businesses and checkmate all forms of corruption involved in the disorderly situation that truckers were currently experiencing in Apapa and its environs
It also solicited the support of other corporate truck-owners, including Dangote, Flour mills and BUA to embrace the call-up system as they begin the test-run.
The coalition said all representatives of truck parks should to go to the associations' office in Apapa for further briefing.