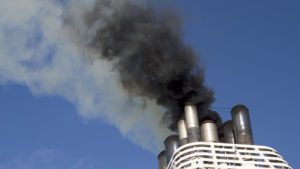 The Clean Shipping Coalition (CSC), a group of NGOs, has heavily criticised comments by the International Maritime Organisation's (IMO) Secretary-General Kitack Lim warning the EU against taking action to address increasing greenhouse gas (GHG) emissions from ships.
"The challenge of meeting the objective of the Paris Agreement is so great that it will require action at all levels. There is nothing that says action can only take place at IMO and indeed it would be counterproductive to concentrate only on the development of IMO measures, when processes there are often subject to delay," John Maggs, CSC president and shipping advisor to Seas at Risk, said.
IMO's criticism of EU action "is unfortunate" Maggs said, calling on the Secretary-General "to press IMO members to urgently agree targets and measures at a global level."
In a letter to senior European officials, Lim had said that including shipping in the European Union's Emission Trading System (EU-ETS) could undermine efforts to reduce greenhouse gas (GHG) emissions from shipping on a global basis.
The decision taken last month by the Environment Committee of the European Parliament includes a compromise provision, which would see shipping included into the EU ETS from 2023 if IMO does not deliver a further global measure to reduce GHG emissions for international shipping by 2021.
Shipping, one of the fastest growing sources of transport emissions, is projected to account for 17% of global emissions by 2050.
Copyright Ships & Ports Ltd. Permission to use quotations from this article is granted subject to appropriate credit given to www.shipsandports.com.ng as the source.