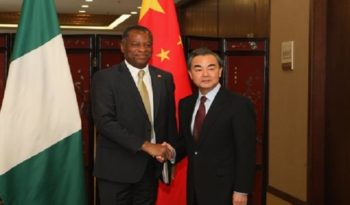 The Federal Government has expressed full support to "One China" principle, saying this is at the core of its strategic partnership with China.
Beijing sees Taiwan as a province and aims to deny it any of the trappings of an independent state. It has threatened to use force if Taiwan formally declares independence.
A joint statement signed by the Ministers of Foreign Affairs of Nigeria and China, Geoffrey Onyeama and Wang Yi respectively, said Nigeria ceases to have any official relations or engage in any official contacts with Taiwan.
It said that the Nigerian government recognizes that there is only one China in the world with Taiwan as an inalienable part of its territory.
The statement reaffirmed both Nigeria and China's commitment to respect each other's sovereignty and territorial integrity.
"The Government of the Federal Republic of Nigeria reiterates not to have any official relations or engage in any official contacts with Taiwan, and supports all efforts made by the Chinese Government to realise national reunification," it said.
The Chinese government, according to the statement, appreciated the recent measures taken accordingly by Nigeria and reaffirmed its commitment to actively developing China-Nigeria strategic partnership across the board.
Meanwhile, Onyeama, in a joint press conference said Taiwan would stop enjoying any diplomatic privileges because it is not a country that is recognized under international law.
"They will be moving to Lagos, functioning as trade mission with a skeletal staff. The Chinese government does not oppose trading as long as there is no formal contact with the government that will suggest recognition of Taiwan as a sovereign country," he said.
Onyeama explained that Nigeria was not pressured to take this position and that Taiwan trade mission in Abuja is fully aware of this development.
On his part, the Chinese Foreign Minister, Wang Yi, said the institutions of Taiwan region in Nigeria has for many years engaged in activities that are inconsistence with its status and seriously threatens One China principle.
"In April last year, both Nigerian and Chinese president, Muhammadu Buhari and Xi Jinping, reached important consensus of upholding 'One China' principle and maintaining the political foundation for bilateral relations.
"We have seen that Nigeria has honoured this commitment by recently adopting decisive measures including ordering the institutions of Taiwan region in Nigeria to Change its name and move its activities to Lagos," he said.
By doing so, Yi said Nigeria has thoroughly addressed the issue that affects China-Nigeria political mutual trust.
Copyright Ships & Ports Ltd. Permission to use quotations from this article is granted subject to appropriate credit given to www.shipsandports.com.ng as the source.