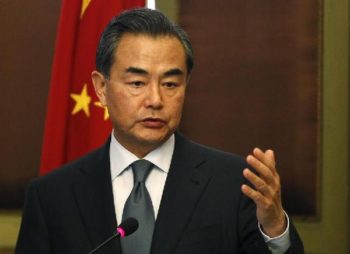 The Chinese Foreign Affairs Minister, Wang Yi on Wednesday said his country is investing additional 40 billion dollars in Nigeria.
Yi stated this at a bilateral meeting with his Nigerian counterpart, Geoffrey Onyeama in Abuja.
The minister said China had already invested up to the tune of $45 billion in the Nigerian economy and was planning to invest more.
"Nigeria and China are strategic partners; our relations have been developing well; China has already invested or financed a total number of 22 billion-dollar projects here in Nigeria, another $23billion projects are on-going.
"In addition, we are also following up another over 40 billion dollars of investments, which is in the pipeline.
"Compare to the size, population and market of our two countries, our cooperation still have large potential to be deepened," he said.
According to him, in order to achieve further development and prosperity of the two countries, "we need to strengthen our political mutual trust, deep complementary between our developments".
Yi said that there was the need to further expand practical cooperation and deepen strategic partnership between the two countries.
He expressed confidence that his visit would be a successful one as well as play a dual role in further strengthening the strategic partnership between China and Nigeria.
According to him, the purpose of his visit to Nigeria is to implement the important agreements and cooperation reached between the Chinese and Nigerian presidents.
He said the visit was also to help work closely with Nigeria to ensure that the outcome of the Forum for China Africa Cooperation summit is well implemented here in Nigeria.
Onyeama had earlier commended the existing relationship between Nigeria and China, noting that the relationship had been strong for many years.
He said, "I think the level of cooperation with China is extremely high and the Chinese government is investing huge amount of money in Nigeria.
"Probably between 60 billion dollars to 80 billion dollars and we are extremely happy for that."
He said that at the last meeting in South Africa, the government of China made available a total of 60 billion dollars to Africa and a number of countries, including Nigeria.
The minister said that he would want to key in and see how much of that could be used to assist in the various projects that the country already had.
Onyeama explained that President Muhammadu Buhari was in China in 2016 and had a discussion with Chinese government on various cooperations.
"Chinese government has been showing a lot of cooperation with us in this area, especially in the area of transportation," he said.
The Minister of Transport, Rotimi Amechi also attended the meeting.
Copyright Ships & Ports Ltd. Permission to use quotations from this article is granted subject to appropriate credit given to www.shipsandports.com.ng as the source.