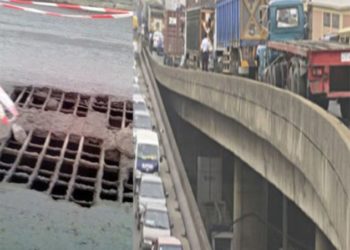 Some road users in Lagos on Tuesday commended the Federal Government (FG) for the ongoing rehabilitation of the Marine Beach Bridge in Apapa.
The road users told newsmen that the bridge was a major access route for businesses dispersing traffic in and out of Apapa.
A chandler, Herrieta Mmerole, said that the rehabilitation of the bridge was timely to prevent lockdown of Apapa.
"I don't even want to imagine the kind of confusion that will follow the collapse of this Marine Beach Bridge, Apapa will be a no go area because of several businesses here especially the ports.
"We thank the Buhari led Federal Government for awarding this contract to save this bridge,'' she said.
A commercial bus driver, Mojid Saheed, commended the repair and the opening of the Apapa/Ijora carriage-way to light traffic.
"Government is doing well and this portion they have opened is reducing traffic congestion,'' he said.
Also,  Seun Hosseni, a business woman, praised efforts to save the bridge to ease gridlock and promote the growth of businesses in Lagos.
Correspondents who visited the project on Tuesday, report that workers were seen arranging some equipment under the Apapa bound carriageway of the Bridge.
They observed that a barricade placed on the Ijora/Lagos bound carriageway allowed only small cars to pass through the portion where the first phase of repairs was recently done.
Site Engineer, Buildwell Plants and Equipment Industries Ltd, contractors handling the project, Christian Chikeka, said that the firm began the second phase.
Chikeka explained that the first phase of work on the Ijora/Apapa bound carriageway was completed before the scheduled date and the portion was opened to light traffic on March 26.
He said that bigger vehicles would be allowed to use the portion after another phase of construction which would involve changing the bearings to make the carriageway stronger.
The site engineer said that the work schedule for the second phase was for the firm to work on a span portion of the Apapa bound carriageway of the bridge from March 26 to April 20.