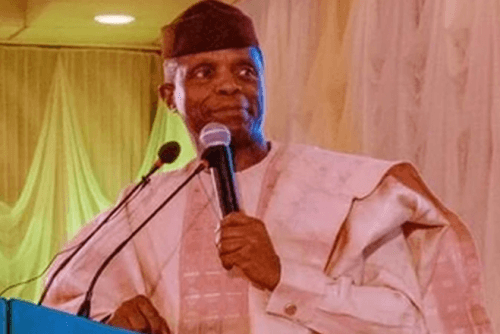 Vice President Yemi Osinbajo on Friday begged Nigerians to bear with the government over the closure of the border with neighbouring countries.
Osinbajo speaking at the ongoing town hall meeting, which coincides with the National Festival of Arts and Culture, NAFEST in Edo State, said the border closure is in the interest of the country and local producers, especially farmers.
He also said that the government closed the borders because "we want our neighbouring countries to begin to take us very very serious."
Osinbajo was responding to the question by the Vice President of Edo market women, Mrs Christiana Omokaro, who cried to him about the high cost of rice and other foodstuffs in the market.
She also asked the Vice President to look at the epileptic state of power supply in the country.
Osinbajo explained that part of the reason for the border closure was to get the attention of neighbouring countries to take more seriously the question of policing the borders.
He said other prosperous nations did not allow any country to bring goods into their countries but opted to grow what they eat.
Osinbajo noted that smuggling discourage local production and does not allow Nigeria farmers to have access to the market.
He said, "Part of the reasons for shutting the border is the smuggling that has been going on. If we continue to allow the Chinese and others to continue to bring in all those things, we will kill farming completely and most of our people will not be employed.
"There may be some pain in other to gain. The countries of the world that are prosperous didn't allow anybody to bring in anything to their countries. They made sure they grow what they eat. I can assure you that very soon you will see a great deal of progress. You will see more of our own commodities coming into the market. If we allow our own people grow these things, our people will prosper. The only way our people can prosper is if we let them use the opportunity that they have such as farming, fishing and others.
"We are going to make sure that commodities are cheaper. We must bear in mind that the reason today some commodities are more expensive is because we stopped smuggling. We have to encourage our local farmers so that our local farmers can prosper."