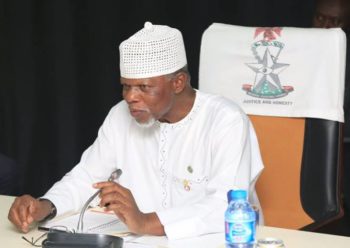 Comptroller General of Nigeria Customs Service, Colonel Hameed Ali (rtd) has appealed to clearing agents to have the fear of God, saying those falsifying documents to defraud the system should discontinue the act.
He made the passionate appeal Wednesday at Onne Oil and Gas Free zone, Onne, Eleme local government area during a joint stakeholders forum on improved service delivery organised by the Oil an Gas Free zones Authority (OGFZA), and Nigeria Customs Service.
Ali said it was unfortunate that some clearing agents had devised means to shortchange the system, saying they falsify documents and under declare contents of containers.
He warned that the Customs would not compromise if anyone was caught defrauding the system.
He said honest declaration of goods would speed up clearing process , adding that stakeholders in OGFZA should comply strictly with the rules governing their operarions for the overall interest of the nation.
He said the Nigeria Customs would continue to collaborate with the organised private sector, adding that stakeholders should feel free to offer suggestions towards improved services.
" We assure you that your contributions will form valuable inputs to our periodic reviews aimed at turning policies for better results ', he said.
Earlier in his opening address, Managing Director and Chief Executive Officer, OGFZA, Okon Umana said the free zone had been repositioned for higher efficiency and productivity, adding that it had improved the nation's export trade.
"The activities of oil and gas free zones have greatly impacted Nigeria's export trade. Outward cargo throughput by trade from the nation's ports accounted for a huge percentage of exports in 2016, excluding crude oil exports.", he said.
Umana recalled that in 2015, ship traffic in and out of OGFZ ports in Onne and Warri accounted for 23.66 percent of gross total ship tonnage for the entire country.
" These statistics underline the tremendous positive contribution to Nigeria's trade balance with attendant huge revenue for the federal government ", he said.
He further said he was hopeful that when the nation finally moved out of recession there will be more investors , increased revenue and greater job creation at the free trade zones.