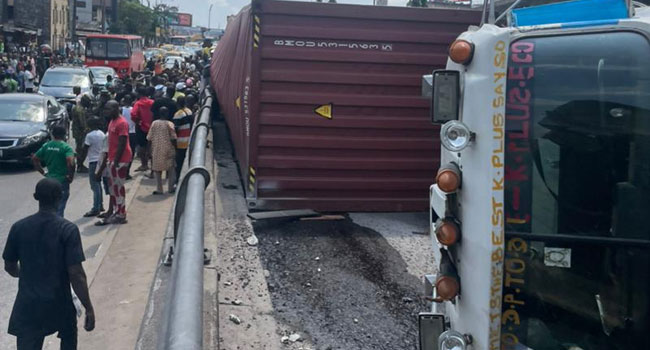 Recently, truck accidents have become rampant with many Nigerians losing their lives and properties to these avoidable tragedies. These avoidable accidents have thrown families into mourning as they lost their loved ones while in search of their daily bread.
Between January and now, there has been nine container accidents in various areas of Lagos State including Ojuelegba Bridge, Ikotun, Mile 2 Bridge, Mile 12 Bridge, Ikeja Underbridge and Oshodi-Isale with many lives lost.
The most recent of these accidents occurred on 29th January 2023 with no fewer than nine people crushed to death as a 20-foot laden container fell on a commercial bus in the Ojuelegba area of Lagos State. The commercial bus was reportedly picking up passengers at the bus stop along the Ojuelegba Bridge when the truck lost control and fell on it.
Stakeholders have attributed the deplorable state of the roads, bribe collection by street urchins and road operatives, over speeding, rickety trucks, inefficient traffic enforcement and regulations across the country, indiscriminate parking on the road to pick passengers, overloading containers to cut cost amongst others as factors responsible for carnage on our roads.
The deplorable state of the roads is a serious issue that needed to be addressed. Most of these roads had been used for years without proper maintenance. When pot holes are detected on these roads, they are not attended to on time till the road becomes damaged beyond repairs. This makes the road weak and in no time, it gives way. This results in the gridlock encountered on the roads.
The forceful collection of money by non-state actors popularly called "agberos" from truck drivers is another cause of these road accidents. These street urchins have devised means of getting these monies at all cost by destroying parts of the trucks. In a bid to escape from them, the drivers drive recklessly without considering other road users and in turn accidents occur.
Another factor is the poor state of the trucks used for conveying these containers to their destination. Most of these trucks are old and looks rickety. Many of them have been used for over twenty to thirty years and they cannot operate optimally as before.
Accidents also occur when containers are not latched on the trucks before they ply the roads. If containers are not adequately secured, it can be a danger to the drivers (both private cars and commercial vehicles). The container can fall off the truck and form an obstacle that in turn may hurt or kill the driver or other road users. The container may even fall directly onto another vehicle. During strong braking or a crash, the risk of container falling off the vehicle is increased.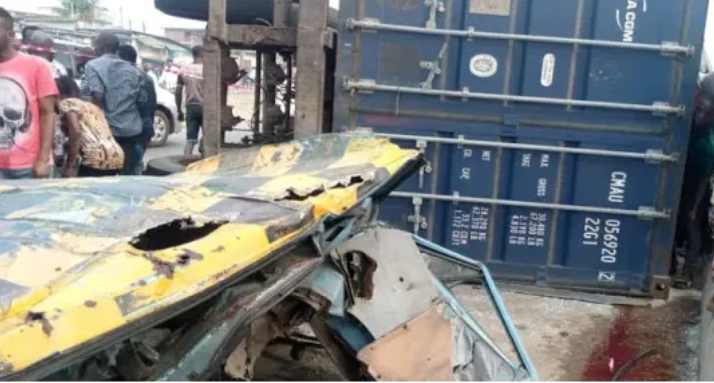 The continuous use of defective truck parts such as tyres, brake pads, and the act of managing them when they ought to be replaced causes tragic accidents because this will affect the driver's ability to maintain the control of his vehicle. When safety products designed for vehicles, such as warning lights, don't work properly, they cause serious accidents.
Many truck drivers drive under the influence of alcohol or excessive drugs which makes them drive recklessly. This in turns claim the lives of innocent victims while leaving others with disabilities and post-traumatic stress.
Poor enforcement of traffic rules
The inefficient traffic enforcement and regulations across the country is another factor that leads to these accidents. This is because traffic enforcement agents fail in their duties to apprehend drivers who flout the laws or whose truck is not road worthy. The traffic enforcement agents (The Nigeria Police, Federal Road Safety Corps, Vehicle Inspection Officer) ought to ensure that trucks are road worthy, have the necessary gadgets for the road like c-caution, brake, rare lights, fire extinguisher etc, but when caught, these culprits are not brought to book rather, they are released to go once they pay the operatives some money.
Section 2, subsections 1 and 2 of the Lagos State Road Traffic Law 2012 states that save as may be prescribed by the Commissioner by regulation, no trailer other than petrol tankers and long vehicles used in conveying passengers, shall enter into or travel within the metropolis of Lagos between the hours of 6.00am – 9.00pm. Any driver who is found contravening the provisions of this Section shall have his vehicle impounded by a duly authorized officer of the Authority and shall upon conviction be liable to a fine of ₦50,000 or a term of imprisonment for six months or both.
This shows that petrol tankers and long vehicles are not permitted to ply Lagos metropolis between the above stipulated times but this is not the case as these trucks still ply these roads causing more accidents.
The indiscriminate act of parking on the road to pick passengers unannounced by these truck drivers also causes road accident. This occurs when they fail to indicate to oncoming drivers who may be at full speed thereby running into the vehicle and causing accidents.
Another issue is the overloading of containers with more than the items they can carry at once. If the containers are scanned before they leave the port, this would have been detected but even when it is detected, workers at Apapa wharf gate collect bribes from the drivers and let them go unpunished. The overloading of containers is usually done to cut cost but when the trucks carrying these containers have faults, they can damage the goods inside the container or fall off the truck to other road users and this can lead to death.
The effects of this ineptitude on the part of truck drivers is untimely death, disability, loss of properties, gridlock, no road access, stampede and vehicles written off.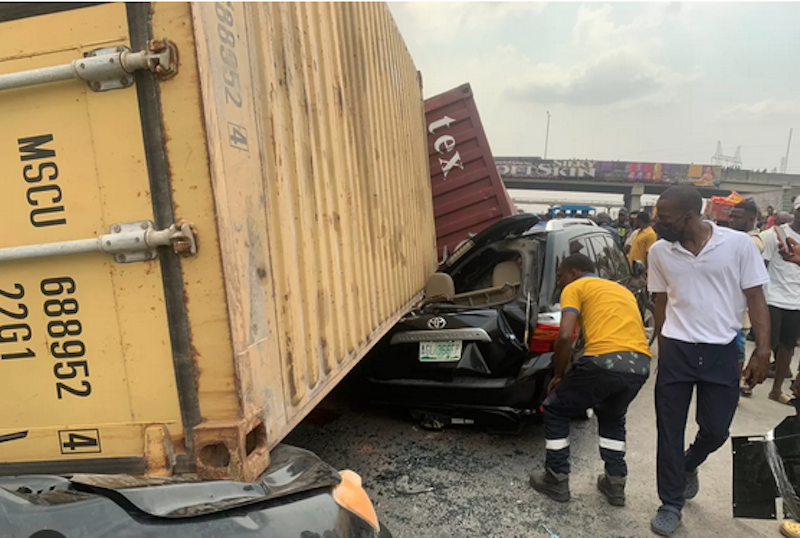 Group begins sensitisation of members
The Chairman, Association of Maritime Truck Owners (AMATO), Chief Remi Ogungbemi condemned the accidents recorded as a result of containers falling from trucks on the road. He said AMATO has started sensitizing its members about being conscious of safety on the road and the measures put in place to mitigate this peril is that containers should not be loaded on any truck that has no functional container case lock. He said AMATO has also created an inspection team saddled with the responsibility of checking the roadworthiness of trucks. He said the association is willing to work with the Lagos State Driving Institute, so that as they teach drivers the theory, the association can teach them the practical aspect of their course.
NPA reacts
Responding to the issue of frequent accidents involving trucks, the Managing Director/Chief Executive of NPA, Mohammed Bello-Koko said NPA would be partnering with the Federal Road Safety Corps (FRSC) in improving capacity and efficiency of truck drivers.
He said FRSC operatives will collaborate with NPA to ensure that trucks meet minimum safety standards and are properly latched before leaving port terminals.
In addition, he said NPA would train truck drivers for continuous improvement of their skills and liaise with the Lagos State Government to secure a holding bay where trucks impounded by the FRSC can be kept for safety.
Lagos government spits fire
The Lagos State government speaking through the Permanent Secretary, Ministry of Transportation, Abdulhafiz Toriola said the state government will no longer tolerate unabated truck accident caused by large containers falling of trucks and killing people. He said culprits would be arrested and prosecuted.
Recommendations
It is recommended that the government should ensure that the roads are put in order for ease of movement for the road users and they should ensure that the street urchins are sent away from the roads. Vehicle inspections and maintenance of container trucks should be conducted regularly while rickety trucks should be changed to road worthy ones. Drivers should be trained about the safe loading of cargo on the trucks and sensitized about risks and hazards associated with their jobs. They should also be educated on the dangers of consuming alcohol or hard drugs before driving, and not park indiscriminately on the road. Also, containers should be checked by specially trained workers before starting the journey.
Road carnage caused by falling containers from truck will be reduced if all these recommendations are put to use by the relevant authorities.
Incessant road accidents caused by containers failing off trucks are a recurring decimal on Nigerian roads and until this evil is tackled, many more lives will be lost.