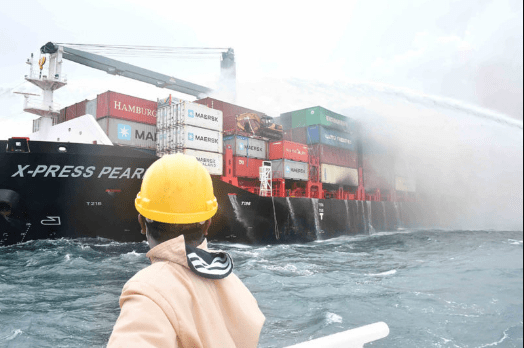 Efforts to contain the fire on board MV X-Press Pearl containership, which broke out on May 20th while the vessel was at anchorage off Colombo harbour, Sri Lanka, remain underway.
Sri Lanka Ports Authority (SLPA) along with the assistance of the Sri Lanka Navy and Sri Lanka Airforce have been working on extinguishing the fire for days now.
Three tugs from the SLPA were employed to reduce the heat in the surrounding area of containers. Sri Lanka Naval Ship Sindurala and a Fast Attack Craft were deployed to the scene to assist the ongoing firefighting efforts. Meanwhile, the navy has made a tug ready for immediate deployment in the event of any emergency.
Separately, the Sri Lanka Airforce has dropped around 425 kilograms of dry chemical powder from a helicopter to help contain the fire.
"A special team comprising officials from Sri Lanka Navy, Ports Authority and Marine Environment Protection Authority reached the location of the fire-hit container ship on 21st May 2021 and monitored the situation further," Sri Lanka Navy said in an update on May 22.
The personnel got on board the vessel and inspected the situation. The port authority believes the fire was caused by a chemical reaction of the chemicals being transported on the ship.
The feeder vessel, registered under the flag of Singapore, is carrying 1,486 containers with 25 tons of Nitric Acid, several other chemicals, and cosmetics from the port of Hazira, India, according to SLPA.
However, due to the inaccessibility of certain containers, it appears that the fire continues to be burning in those places.
Local media reported that the Marine Environment Protection Authority (MEPA) of Sri Lanka has ordered the owner of the feeder to move the vessel out Sri Lankan waters immediately to ensure the safety of the citizens and the environment.
The distressed container ship has a crew of 25 members, who are Philippine, Chinese, Indian, and Russian nationals. There have been no reports of injuries.