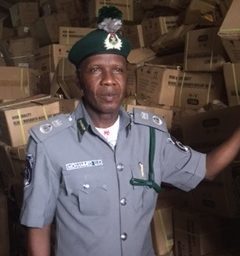 Controller, Federal Operations Unit Zone 'A' of the Nigeria Customs Service, Uba Garba has pledged to improve on the unit anti smuggling campaign even as he solicited the support of the media to enforce compliance with government fiscal policies.
Garba who stated this at the weekend during an interactive session with journalists at the Unit's headquarters in Lagos said such synergy is needed to help sensitize the public on the dangers of smuggling.
He said ignorance on the part of some members of the public is one of the reasons why some engage in smuggling as according to him, if people are aware of the dangers, they will not engage in such act.
"Some members of the public think is smuggling is a normal trade without necessary knowing that it is injurious to the community for which they are also members. It is necessary we educate them to desist from the illegal activities," he said. .
The Customs boss said given that the Zone accounts for 70 percent of the Service total revenue, he will redouble his effort to ensure maximum revenue generation and reduction of smuggling activities within the Zone to the barest minimum.
He also appealed to the media to avail the unit with useful information on the activities of smugglers.
"Wherever there are lot of activities, you also have more problems is such places. Much is expected of me so I have decided to double my effort.
"By the time, I have all the necessary information; I will know what to do within the limit of my power. I assure you that you will see changes with my coming on board. We will partner with you and do our best in making sure that these illegal activities are brought to the barest minimum.
"You are part of this society so anything you feel is wrong, help to draw the attention of the authority. You will continue to support us by giving us information. I want you to support us to help us succeed," he said.
On the incessant clash between Customs officials and smugglers at Ogun, Garba assured that the Unit under his watch will put in place measures to ensure that such clashes is reduced to its barest minimum.
"Three weeks ago, I was not here but I am aware of the shooting from the media. Without the press, I could not have known. Firing of arms is only done when the officer's life is at risk and it is usually done based on instruction from superior officers. But we will ensure that casualties is reduced to the barest minimum," he said.
Copyright Ships & Ports Ltd. Permission to use quotations from this article is granted subject to appropriate credit given to www.shipsandports.com.ng as the source.