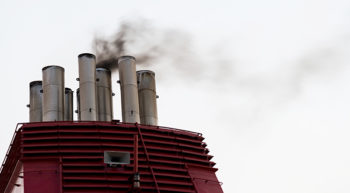 By Jite Eriabie  
The International Chamber of Shipping (ICS) has issued a spirited defence of the industry's work on reducing greenhouse gas emissions from ships, to coincide with the opening of the UN's COP 23 conference on Climate Change taking place under the presidency of Fiji in Bonn this week.
Dismissing claims by some environmental NGOs that shipping interests are deliberately obstructing CO2 reduction efforts, the ICS argues that the industry is in fact "constructively seeking to help IMO Member States develop a credible CO2 reduction strategy that is genuinely ambitious but also realistic." ICS adds that it is "confident that IMO will deliver.
"The remarks are made by ICS director of policy and international relations Simon Bennett, in an article prepared for Danish publication Shipping Watch.
Bennett argues that ICS has not supported any binding cap on the shipping sector's total CO2 emissions for the simple reason that developing nations – particularly China and India – have made clear their opposition to the concept. Instead ICS is hoping that all IMO Member States will sign up to industry proposals for "ambitious CO2 reduction objectives" – a set of voluntary targets that IMO has agreed to frame in initial form by next April.
Furthermore, industry has been supportive of IMO's adoption of a mandatory CO2 Data Collection System, points out Bennett, "the first such global system developed for any industry sector.
"ICS and its industry partners Bimco, Intertanko and Intercargo also helped IMO introduce binding regulatory measures – such as the Energy Efficiency Design Index (EEDI) for new ships and Shipboard Energy Efficiency Management Plan (SEEMP) for existing ones – adds Bennett, and are "open to the consideration of further measures that could be adopted."
However, ICS does remain resolutely opposed to the concept of "mandatory operational efficiency indexing" of ships, he admits, since the vast differences in shipping routes and vessel types "could lead to unfair penalties being applied to individual ships, creating serious market distortion and unfair competition." 
Copyright Ships & Ports Ltd. Permission to use quotations from this article is granted subject to appropriate credit given to www.shipsandports.com.ng as the source.